Argentina releasing LPG trucks bound for Paraguay
Friday, September 22nd 2023 - 10:04 UTC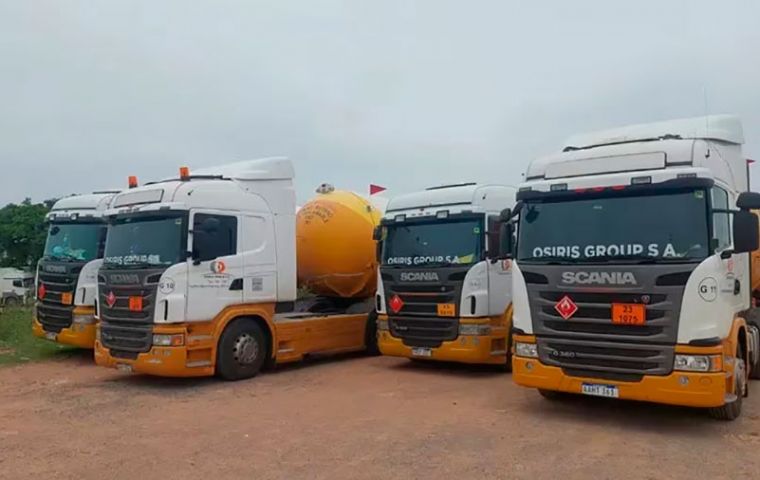 In the latest episode of the feud between Argentina and Paraguay, trucks carrying liquefied petroleum gas (LPG) bound for Asunción and detained by Argentine customs began to be released Thursday, it was reported, a week after barges carrying fuel were also detained for unpaid tolls on the Paraná River waterway.
"By consensus in the meeting held this morning, and based on the goodwill of all, we will now proceed with the release of the first four trucks containing propane," said Gustavo Lucero, president of the Paraguayan Gas Chamber (Capegas).
"Subsequently, all the trucks will be released during the day or tomorrow, and we hope that the Argentine authorities will honor their commitments," he added.
The vehicles began to be stopped on Saturday at the border crossing between the Argentine town of Puerto Pilcomayo and neighboring Itá Enramada, without Argentine authorities explaining the reasons for the move.
"There are twelve but the number of trucks will increase to sixteen. The trucks are stopped, there is no reason reported. I do not remember that because of an arbitrary decision loads have been retained. Normally before, permits were not given for shortages, generally in winter," said Guillermo Parra of Paraguay's Chamber of LPG Importers.
By Thursday, 22 units had been stopped as the truckers' union warned of the risks of keeping this type of cargo in the region's heat. "We regret the attitude of the Argentine government," Paraguayan Vice President Pedro Alliana also said in a radio interview, suggesting it could be in retaliation for Paraguay's decision to cut off all electricity from the binational Yacyretá power plant on the Paraná River.
The government of President Santiago Peña claimed the move was due to a US$150 million debt, although Buenos Aires saw it as retribution for imposing a toll (US$1.47 per ton) on barges carrying cargo along the Paraguay-Paraná waterway.
Alliana assured that negotiations are ongoing and that an agreement on Yacyretá is imminent, AFP reported.