Paraguayan lawmakers bring waterway crisis before Parlasur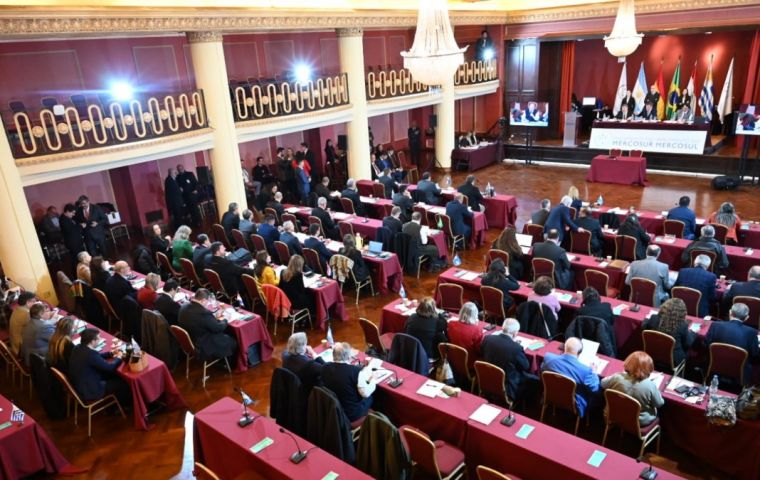 Paraguayan lawmakers took to the Mercosur Parliament (Parlasur) in Montevideo the crisis stemming from Argentina charging tolls to barges sailing through the Paraná River Waterway, it was reported Monday in the Uruguayan capital. They displayed banners reading "Free navigation now", "Free navigation always", and "Waterway = Mercosur".
"We begin the LXXXIX Ordinary Session of the Mercosur Parliament. I am going to make Paraguay's voice of protest against the irregular and illegal collection of tolls on the waterway heard in my presentation", said Deputy Walter Harms through the social network X, before the start of the Parlasur ordinary session.
Representing Paraguay were Deputies Kattya González, Dionisio Amarilla, Rubén Rubin, Carlos María López, Jazmín Narváez, and Hugo Meza, among others who insisted on the importance of the waterway in the making up of Mercosur.
Senator Derlis Maidana stressed that "from the Paraguayan delegation we have always supported the need to develop an agenda that includes the discussion of the major issues because, in our understanding, the purpose of Parlasur is to fulfill the aims and purposes of the Treaty of Asunción; we support the need to update our regional integration models" and insisting on the bloc's need to guarantee free navigation for the commercialization of the goods of each country without any tariffs or restrictions.
Argentine Parlasur Deputy Alejandro Karlen proposed a hug with Rubin as a sign of friendship after the latter's statements last week regarding the need to play the military card in the negotiations between the two countries and hence the need for the Defense budget to be a priority.
Read also: Paraguayan lawmaker ready for war with Argentina
Regarding last week's session, Rubin explained that "it was an open debate with colleagues about national defense and we were not talking about any particular conflict. In that context, the colleague who spoke before said that he would not go to war for his country and then it was my turn to speak and I said that I would go" and added that the word "war" was a response to a colleague who spoke before him saying he would not go to war for his country.
Paraguayan Parlasur Deputy Rodrigo Gamarra addressed the recent seizing by Argentina of trucks carrying liquefied petroleum gas (LPG) to Paraguay. Gamarra claimed this blockade was added to the illegal toll charged on the waterway.
"I raise my voice of protest not only as a Paraguayan but also as a member of the Mercosur Parliament, where we have to take ownership of this problem and be part of the solution," he stressed before his fellow Parlasurians.
Gamarra also recalled that Mercosur was born to unite its members in terms of trade and free transit, which Argentina's actions affected in a "harmful and damaging" way.
"Days ago at the border in Puerto Pilcomayo more than 20 trucks carrying LPG for internal consumption in Paraguay were retained in an arbitrary, illegal, and even inhumane manner and I say this because of the treatment received by transport workers and also by the citizens living in the area of Clorinda, who were unnecessarily exposed to the danger posed by having in unsuitable conditions for that type of trucks and with that type of load, having legal documentation to proceed to free transit," Gamarra added while insisting the matter went beyond Paraguay and Argentina since it was a regional problem that includes Parlasur and Mercosur because it is an onslaught on free trade and transit.
Traveling between Encarnación and Posadas "should be fast and fraternal because it is not a long-distance crossing but simply for visits between cities, as we do permanently with Brazil in Ciudad del Este and Foz de Iguazú, where there is no exhaustive and abusive control on the part of the authorities," he also pointed out.