Post stamp commemorating 200 years of ties between Argentina and Brazil launched
Tuesday, September 26th 2023 - 09:44 UTC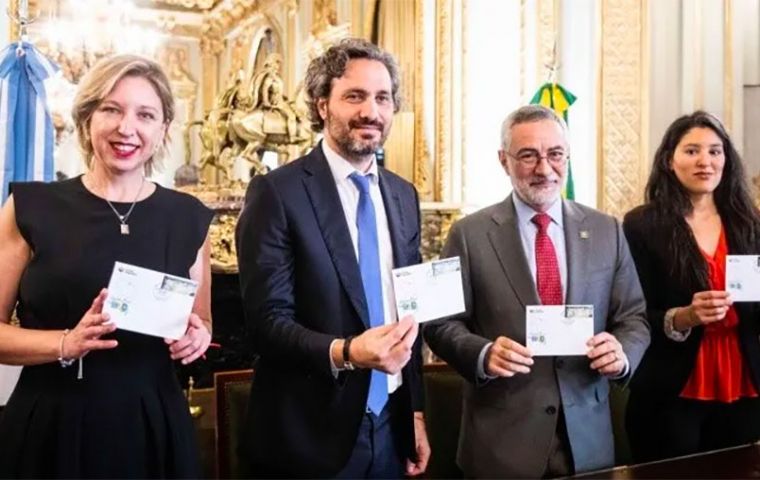 Argentine Foreign Minister Santiago Cafiero presided over the ceremony in Buenos Aires Monday marking the launching of a postage stamp commemorating two centuries of diplomatic ties between Argentina and Brazil.
The stamp shows the Iguazú Falls, one of the natural border limits between the two countries. It has a print run of 20 thousand copies and is already available at all philatelic branches and at the E-shop of the Argentine Postal Service.
Cafiero highlighted the cooperation between both nations throughout the decades and underlined the ability to reach significant agreements.
"We can think with optimism about the time to come in the bilateral relationship, because of how we were able to solve problems and overcome mistrust even in terms of nuclear development, with the creation of the Brazilian-Argentine Agency for Accounting and Control of Nuclear Materials (ABACC), which is a worldwide seal, a joint achievement that we obtained without the need of third parties. It is a true testimony that we do not need third parties when we reach an agreement between Argentina and Brazil," Cafiero highlighted.
The Foreign Minister also labeled Mercosur as the most important integration policy in South America and the region. "Mercosur's numbers mark more than 750 billion dollars of trade exchange, which shows that it is far from the obsolescence that some people mention. The bloc continues to be the most important integration tool in South America and the region," said Cafiero.
"We are building on these 200 years the next 200 years. We have what the world is demanding: people who know how to do it, scientific development, our own knowledge, universities, natural resources. That is where the destiny of our peoples will be inscribed. Our bond is not broken and although with political affinity we can make more progress, the ties are maintained beyond governments," he added.
The event was also attended by Brazil's Ambassador to Buenos Aires Julio Glinternick Bitelli, and Argentine Postal Service Chairwoman Vanesa Piesciorovski, among other authorities.
"This is a relationship that has been increasingly consolidated since the return of democracy, which is at the center of our international agenda and must never leave it again," Ambassador Bitelli said. "It is a relationship that grows stronger the more we get to know each other," he added.