Uruguayan Interior Minister wants DEA back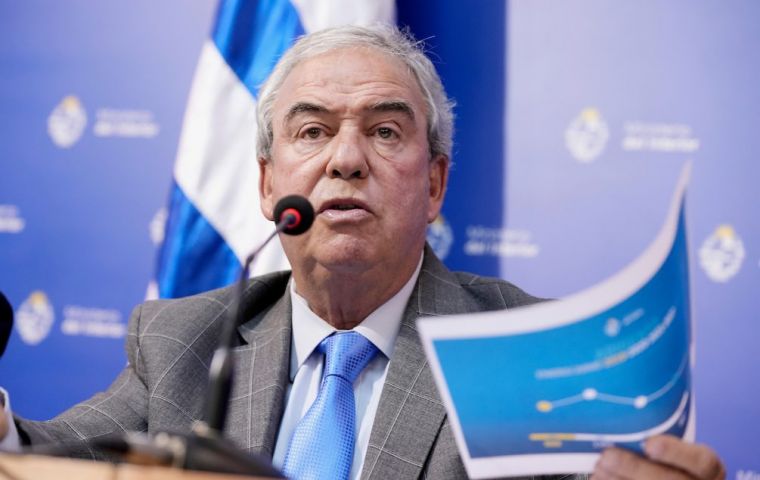 Uruguay's Interior Minister Luis Alberto Heber insisted Tuesday it would be a wise move to bring back the United States Drug Enforcement Agency (DEA) to the South American country. Heber made those remarks days after the escape of many drug traffickers who had been granted house arrest.
"Drug trafficking is what changed Uruguay," stressed Heber who also pointed out that 49 such organizations had been identified in addition to 5 groups deactivated.
"The DEA has left Uruguay, we are making and I am glad that the U.S. ambassador is here, we are making efforts to bring them back. It is very important for Uruguay the information, the collaboration, and the work we have with the DEA," Heber said during lunch at the Association of Marketing Managers (ADM) in Montevideo.
Heber also argued that these gangs are settled "in Argentina, but they often come to Uruguay, it is not the same as if they were here." The previous Broad Front (leftwing) administration of the late President Tabaré Vázquez did not report the existence of a network of illicit organizations working in the country.
"I go through the neighborhoods of Montevideo at one in the morning and it is another country," Heber also pointed out. "They hang up their shirts and live and new businesses appear," he added. In this regard, Heber said he fully favored nighttime police raids. "We need them," he stressed. "Hopefully the signatures will be gathered and a bill will be voted in Parliament to modify the Constitution and give us the opportunity to raid at night," he elaborated.
"Do we want to fight drug trafficking or not? Well, give us the tools, if I can't enter at night, I'll be damned," he also argued. Congressman Gustavo Zubía of the Colorado Party of the ruling Multicolor coalition will present a bill Thursday to enable police procedures at night in a move to "minimize" criminality.