Football clubs of Brazil and Argentina agree on joint appeal against violence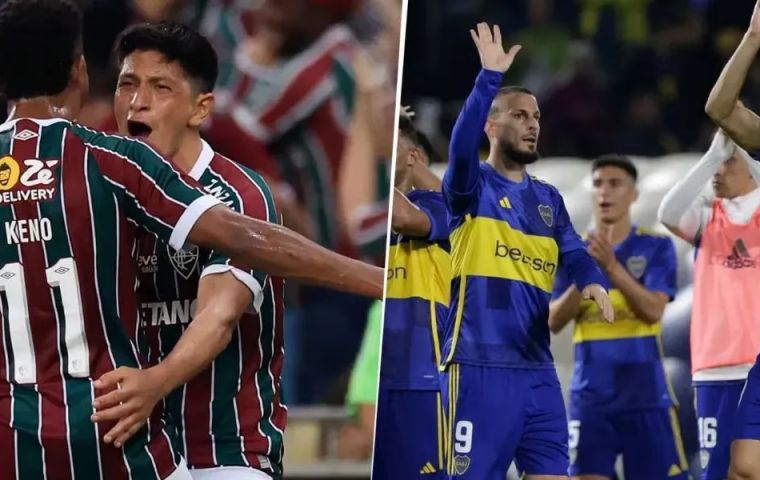 Directors of football clubs Fluminense of Brazil and Boca Juniors of Argentina launched an appeal against violence after brawls between fans in Rio de Janeiro ahead of the Libertadores Cup final to be played Saturday at the legendary Maracana Stadium, Agencia Brasil reported.
South American Football Confederation (Conmebol) authorities held a meeting Friday with representatives of Fluminense, Boca Juniors, the Brazilian Football Confederation (CBF), and the Argentine Football Association (AFA) to discuss security matters for the match.
The meeting was called after a disturbance between Boca Juniors and Fluminense fans behind the Fan Fest set up in front of the Belmont Copacabana Palace Hotel on Thursday, which led military police to disperse the people present at the venue with the use of rubber bullets and gas.
Read also: Argentine and Brazilian football fans clash in Rio ahead of Libertadores Cup final
At Friday's meeting, Conmebol reported that "the clubs and federations have agreed to make a joint appeal to avoid acts of violence," Agencia Brasil also said.
"Let's enjoy the CONMEBOL @Libertadores Final with respect and without violence," the South American Confederation said on social media.
Shortly after the meeting, Fluminense released a statement in which it declared that it "repudiates any kind of violence, verbal or physical, from all supporters." The club also said that "the focus of the fans should be exclusively on football and partying, in the stands and on the streets of the city."
Boca Juniors President Jorge Amor Ameal said in a video released by Conmebol that "the match will take place with a crowd. There won't be any problems. I ask people to respect their rivals. This isn't a war. This is a football match. We love the Brazilian public very much, and we want them to love us too."
At the meeting, those present also reviewed the logistics of fans' access to the stadium, the areas allocated to each club, the plans, and the perimeter around the Maracanã. "As both clubs have a huge fan base, it is essential to take extreme precautions to avoid excesses and minimize contact between fans as much as possible," Conmebol concluded.
(Source: Agencia Brasil)