Chilean president has 59% disapproval; polls show 42% do not support new constitution
Monday, November 13th 2023 - 14:03 UTC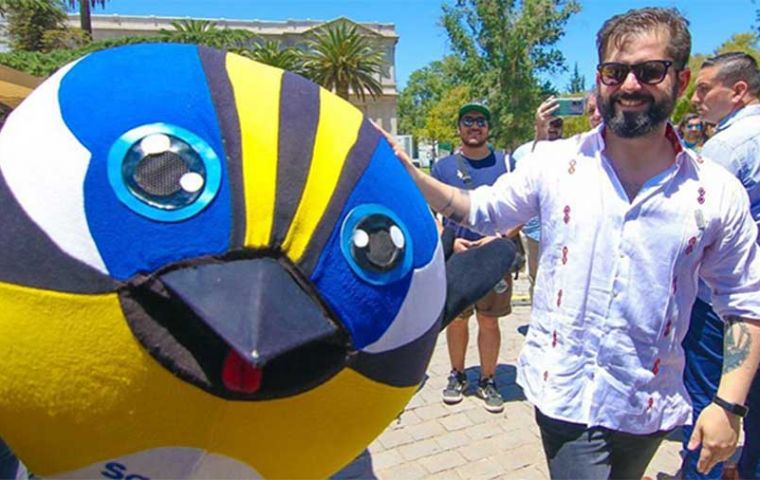 The assessment of Chilean president Gabriel Boric' performance as registered by pollster Cadem shows that support for the head of state, following several weeks of stabilization, has again fallen four points and now stands at 33%.
Apparently with Chile hosting the PanAmerican Games, which are now over, optimism has turned into a 59% disapproval of Boric while three members of the conservative opposition, Evelyn Matthei. Rodolfo Carter and Claudio Orrego (mayor of Santiago) enjoy 69%, 61% and 59% support respectively, while some of Boric's allies are also suffering from the overall rejection of the left wing coalition.
Likewise Ms Matthei (daughter of a former Air Force chief and associate of dictator Pinochet at the military Junta) and Jose Antonio Kast (right wing politician), lead the opinion polls as possible presidential candidates.
This last week president Boric also received a copy of the new amended Chilean constitution, which is expected to be put to a vote next 17th December. Cadem opinion poll also shows that those favoring the new constitution stand at 32%, three points less than when the Constitutional Assembly ended discussions. Likewise those against the new constitution according to Cadem represent 50% of those interviewed.
Regarding interest in the constitutional referendum, it is down to 42% compared to 76% when the first attempt to amend the constitution on September 2022, and was finally overwhelmingly rejected. Most concerning is the fact that 42% of those interviewed feel the new amended text is "worse" that the current constitution which is also identified at the "Pinochet" constitution, a legacy from the late dictator.