Paraguay's agriculture exports keep growing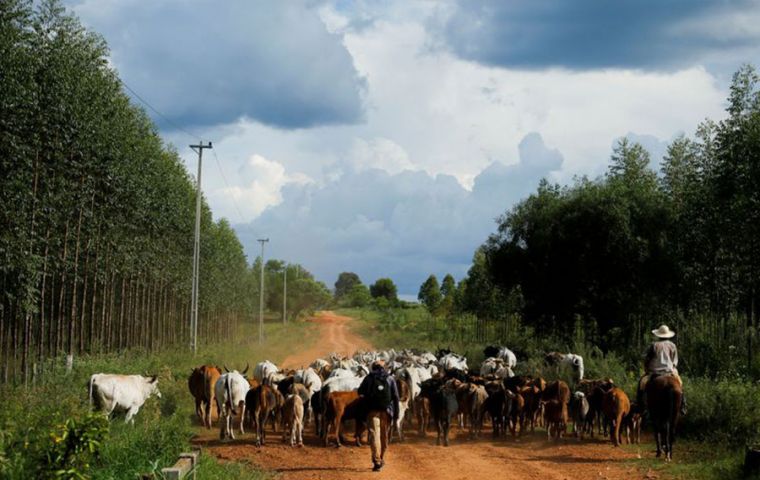 Paraguayan exports totaled US$ 14.438 billion in the first ten months of 2023, a 23.6% improvement from the same period last year, a foreign trade report released by the Central Bank of Paraguay (BCP) showed.
This export momentum was driven mainly by the agricultural sector, which accounted for 69.3% of sales (US$ 10.007 billion), an 18.1% yoy progress. Soybeans, rice, and soybean meal stood out.
BCP External Sector Statistics Department Head Guillermo Ortín said the increase was mainly due to increasing shipments of agricultural products.
By October this year, imports totaled US$ 12.921 billion, 3% above last year's figures in terms of price but a 1.7% drop in volume. Hence, Paraguay's foreign trade balance reached a surplus of US$ 1.517 billion.
Meanwhile, a report by the Paraguayan Chamber of Exporters and Traders of Grains and Oilseeds (Capeco) released Tuesday in Asunción showed that soybean exports experienced a significant increase of 162.9% by October 2023, compared to the same period last year.
The study also mentioned that in the first ten months of this year, 5,706,000 tons of grain cereal were shipped, compared to 2,170,600 tons last season, which shows a nominal variation of 3,535,400 tons for earnings worth US$ 3.036 billion, a 159.6% improvement from US$ 1.170 billion the previous year, according to the BCP.
Capeco foreign trade advisor Sonia Tomassone said that the positive numbers were a sign of recovery after the severe drought of the last harvest, which impacted the country's economy positively. "Both grain exports and soybean derivatives have increased the volume shipped, which shows a higher degree of processing," she said.
Argentina accounted for almost 89% of Paraguay's soybean exports, followed by Brazil (3%), and Russia (2%). The rest was split among the US, South Korea, Uruguay, Belgium, and Chile. Tomassone pointed out that Russia was once again the third destination market despite having resumed purchases only last month.