Linking the gov't to drug trafficking is serious, Lacalle warns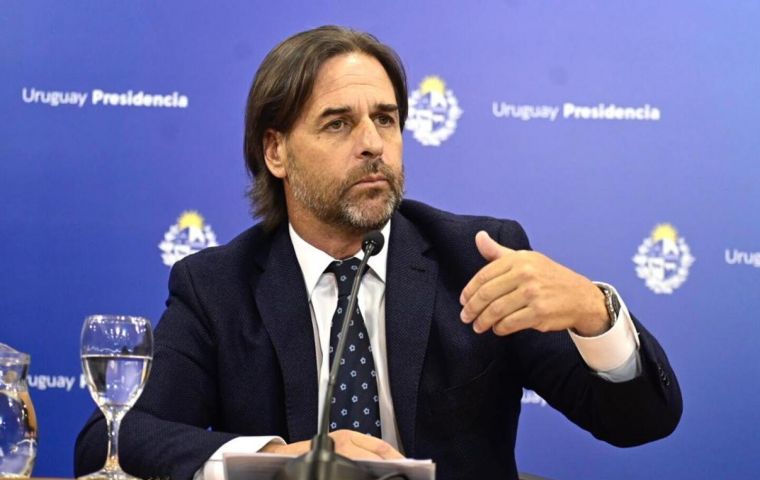 On his last full day in the country before leaving for China, Uruguayan President Luis Lacalle Pou criticized opposition leaders for suggesting he was involved in drug trafficking, which the Marset scandal that led to the resignation of several ministers earlier this month would allegedly prove.
"To say that drug trafficking is in the government is serious," Lacalle stressed. "We must be careful and" accept the consequences, he added. "It is a pity that the electoral voracity reaches this limit," the head of state insisted in response to remarks by Frente Amplio leader Fernando Pereira, who said drug trafficking should not enter politics.
"To say joyfully and clearly, as has been said, that the drug trafficker is in the government is a very serious statement," Lacalle Pou said during a rural event in Dolores. "If they really want to take care of the institutionality, it does not seem that they are acting in that direction," the president continued, before comparing the Marset case to the escape of Italian mafioso Rocco Morabito and meetings in prison during the last Frente Amplio government with Mexican drug trafficker Gerardo González Valencia, who was not extradited to the United States until Lacalle Pou took office.
"In a government, the DEA (Drug Enforcement Administration) leaves Uruguay. Do you know why? Because of the lack of commitment and information. Which is the government in which the drug trafficker participates? Which of the two? I don't think it's either one," Lacalle said.
He also reckoned he would testify in the Marset case if called by the prosecution. "I go everywhere. How can I not go? I already went for one case (the case of former presidential security chief Alejandro Astesiano) and I am going for another, I have no problem," Lacalle admitted.
The Marset case involved the irregular issuance of a Uruguayan passport to drug trafficker Sebastián Marset while he was under arrest in the United Arab Emirates for trying to enter the country with false Paraguayan documents.
Lacalle will travel to China on Saturday with various members of his cabinet and a delegation of businessmen to sign several agricultural and livestock trade agreements. The South American leader will also hold a bilateral meeting with Xi Jinping in an attempt to finalize a free trade agreement (FTA) between the two countries. Other topics to be discussed include investment and the green economy, Montevideo said.