Paraguayan corn exports fall sharply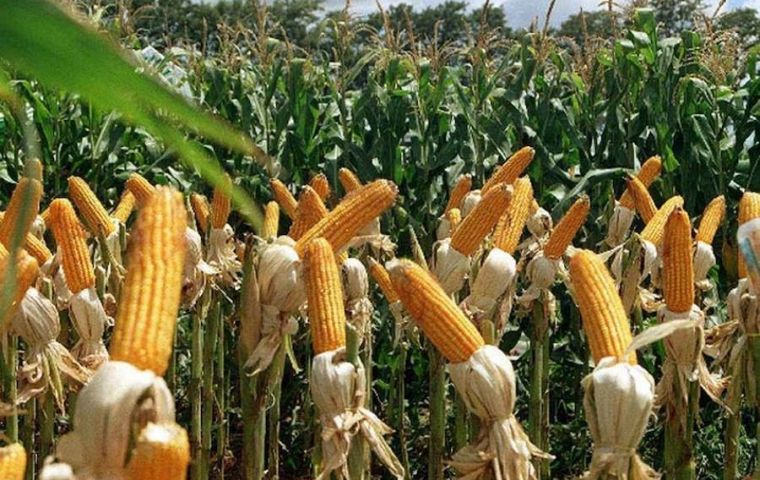 According to a foreign trade report issued by the Central Bank of Paraguay (BCP) on Friday in Asunción, the South American country suffered a 25.4% drop in corn exports in October compared to the same period last year.
In the first ten months of 2023, Paraguay earned US$ 573.6 million from corn exports, with 2.8 million tons sold abroad, a decrease of 431,600 tons compared to the same period last year, representing a 13.2% drop in volume.
As a result, foreign exchange earnings decreased by US$ 195.6 million compared to the same period last year, when more than US$ 769.2 million was grossed. However, this year's results are still better than those of the first ten months of 2021, when corn exports totaled 1.5 million tons.
Lower production last season, coupled with a drop in international corn prices, contributed significantly to the latest figures, it was explained.
On a more positive note, Paraguay will begin shipping beef to the United States on December 15, Agriculture and Livestock Minister Carlos Giménez announced.
"As of Dec. 15, Paraguay will be able to send meat, but initially it will be for the industry. From then on, we must seek and conquer the market with our quality because we know that Paraguayan meat not only has genetic quality, but its taste conquers markets, and that is what we must rely on," said Giménez.
According to the minister, the reopening of the US market is "the key to the markets of the world." A decline in the number of cattle in recent years will require measures to recover the previous levels, which Paraguayan producers know they need to address. In this regard, Giménez stressed the importance of the creation of the National Meat Institute.