Leaders and diplomats congratulate Milei on his win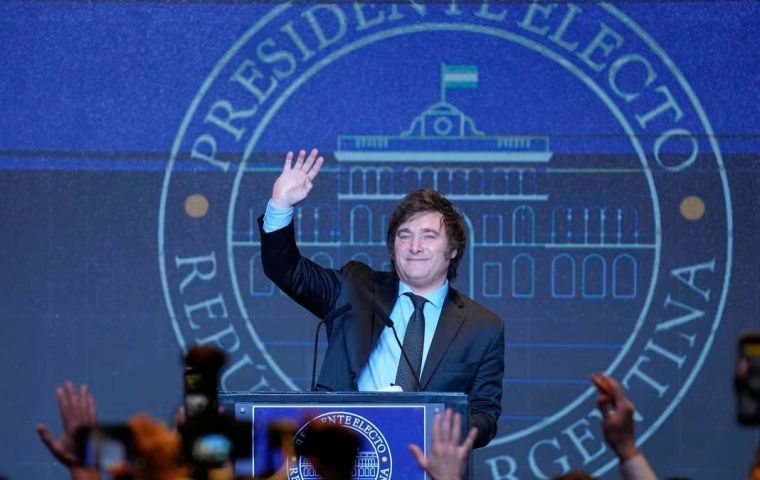 Presidents Luiz Inácio Lula da Silva of Brazil and Luis Lacalle Pou of Uruguay were among those Sunday who congratulated Javier Milei on his victory over Sergio Massa at the runoff elections in Argentina. Also joining the celebrations were Uruguayan Vice President Beatriz Argimón and US Ambassador to Buenos Aires Marc Stanley.
Lula wished "good luck to the new government" of Argentina to be inaugurated on Dec. 10 when President-elect Javier Milei succeeds Alberto Fernández. The Workers' Party (PT) leftwing leader had openly supported the losing candidate Sergio Massa. With 97% of the votes counted, Milei beat Massa by 55.76% to 44.23%.
"Democracy is the voice of the people and must always be respected. My congratulations to the Argentine institutions for conducting the electoral process and to the Argentine people who participated in the election day in an orderly and peaceful manner. I wish good luck and success to the new government," Lula posted on X.
"Argentina is a great country and deserves all our respect. Brazil will always be available to work together with our Argentine brothers," he added.
From his Chinese tour, Lacalle too celebrated Milei's win: "I greet President-elect Javier Milei. We have a lot to work together and to improve our bilateral relations," wrote the Uruguayan leader on X. Lacalle had admitted he favored neither Milei nor Massa but then reckoned he preferred that "whoever wins is better for my country and better for bilateral relations with our country."
"We will sit down to talk with whoever wins," Lacalle had also promised while recalling Uruguay's interest in amending some of the existing inequities within Mercosur.
"Congratulations to the president-elect of the Argentine Republic, Javier Milei, and to vice-president-elect Victoria Villarruel. We wish them success in their administration, wishing the best for all the Argentine people. We will also continue to strengthen the ties between our countries," wrote Beatriz Argimón, who is currently serving as Uruguay's acting president due to Lacalle's trip.
"Congratulations to Javier Milei and the Argentine people!" said Stanley on X. "We look forward to working together on shared priorities that benefit the people of our two countries, including protecting human rights and democracy, combating climate change, improving the investment climate, and investing in the middle class," the diplomat added.