PM Sunak, Falklands sovereignty dispute is a "resolved issue" and "will not change"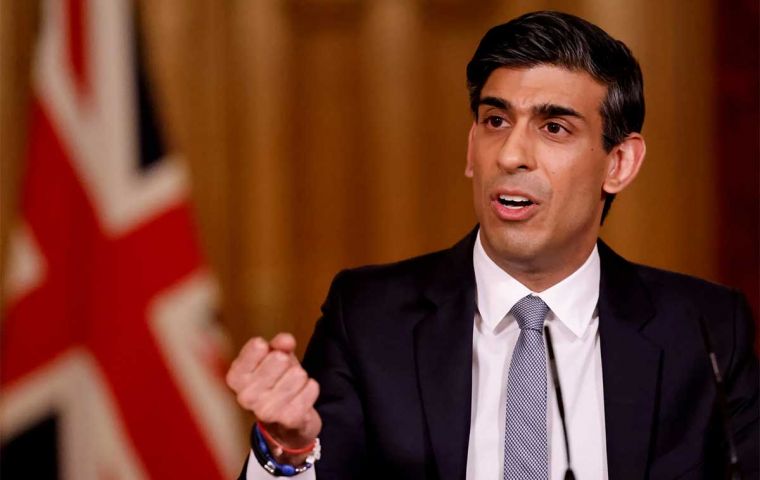 British Prime Minister Rishi Sunak on Monday extended his government's congratulations to the Argentine elected president Javier Milei on his Sunday's windfall victory, but also affirmed that the dispute over the Falklands-Malvinas Islands sovereignty is a "resolved issue".
PM Sunak's spokesperson pointed out that "Argentina and UK as members of the G20 and with a prosperous relationship, must develop a solid and reproductive relationship". But on the Argentine claim over the Falkland Islands, an issue that was brought up during and after the presidential political campaign, the spokesperson was direct.
"I haven't seen the most recent comments on this. I think Milei has raised several different points on this during the campaign," said the spokesperson. However, "On our part, it is obviously an issue that has been resolved for some time. There are no plans to review that, "the position of the Falkland Islands has been resolved for some time and will not change."
Milei during his campaign was quoted arguing that he favors a "Hong Kong" solution to the Falklands/Malvinas dispute, "we had a war which we lost, we must make all possible efforts to recover the Islands through diplomacy" In an interview with La Nacion and before last Sunday's electoral runoff, Milei insisted, "obviously I will defend our Malvinas," but he further complicated the issue by expressing his admiration for ex PM UK Margaret Thatcher and her economic policies, and together with her leading candidate for Foreign minister, Diana Mondino, they argued that "the wishes of Falkland Islanders must be respected."
For the nationalist vein of Argentines and twenty years of an attempted siege of the Falklands and collapse of its economy, by the successive Kirchner governments since 2003, the mere mention of the Iron Lady and respecting the wishes of Islanders is anathema.
Let's not forget that most recently, until a few days ago, the Foreign and Development Secretary, now Home Secretary, James Cleverly during the Conservative party conference had promised a visit to the Falkland Islands to reaffirm support for the Falkland Islands people self determination and British sovereignty.
Another UK government top 'official also congratulated president elect Milei, and said he "looks forward to a constructive relationship with the new Argentine government." Under-Secretary of State for Americas and Caribbean James Rutley posted in his X Twitter, "Congratulations to @JMilei for his election as the next President of Argentina, the United Kingdom looks forward to developing a constructive relationship with you and your team in the coming months"
The minister of state for Americas and the Caribbean twitted his greetings on Monday when Canning House celebrated its 80th Anniversary, marking 80 years of promoting Latin America and Iberia in the United Kingdom.