Uruguay completes first South American dairy cattle export to China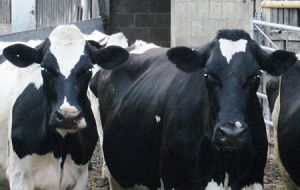 Uruguay completed this week the first South American export of live dairy cattle to China. A total of 3.970 Holstein calves and heifers (8 to 18 months old) were shipped for the thirty day journey which will be followed by two month quarantine in mainland China.
"The 3.970 cattle will the largest number of live dairy cattle exported to China. The previous record belonged to Australia with 3.000 head", said Ruben Urchitano the broker involved in the five million US dollars operation.
Urchitano said that it was possible a second shipment could be arranged in the coming six months. He also pointed out that Uruguay could have exported a larger number but 4.000 is the maximum quarantine facilities capacity in China
The cattle were provided by 160 farmers from Uruguay's main dairy basin. Uruguay is a leading regional exporter of dairy products and because of its outstanding sanitary conditions Argentine, Brazilian, French and New Zealand companies have been investing heavily in the industry.
"The cattle is in excellent conditions to face the 30 day journey, and what is even more important the buyers from a Chinese cooperative are most satisfied with the production potential of our dairy farms", said Urchitano.
The only hurdle which almost frustrated the deal was the Chinese sanitary protocol which demands that cattle be tested for foot and mouth disease and meant handling live virus conditions.
Since the virus has been eliminated in Uruguay and its handling in the country strictly forbidden, tests had to be taken to the Panamerican Foot and Mouth Disease Centre in northern Brazil.