Pigs contract A/H1N1 virus flu and Argentina issues national alert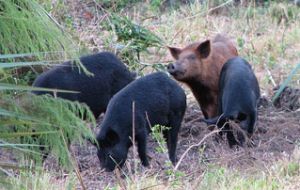 Argentina declared a nationwide alert on Friday after pigs in the province of Buenos Aires were confirmed to have the A/H1N1 flu virus, health authorities said. Thousands of people have contracted the virus in Argentina and 137 people in the country have died.
"We have detected clinical cases of the A(H1N1) influenza in a pig farm in Buenos Aires province, they have been confirmed by laboratory tests," the national farm and food standards agency Senasa, said.
Senasa said the outbreak announced on Friday was the second time the disease had been found in pigs in Argentina -- the first case of infection in pigs was detected in June in the same Argentine province.
Farm Sanitation Chief Jorge Dillon said the flu's symptoms are fairly benign for infected pigs and the pig outbreak poses no health risk to humans. Nevertheless, agriculture officials on Friday said they will try to keep people infected with swine flu away from hog farms, where pigs are being infected by humans. It is recommending procedures to prevent pig-to-pig infections too.
Argentina had confirmed on July 6 at least 137 human deaths related to swine flu, the highest national tally after the US.
The Argentine Labour ministry also on Friday announced the extension for a further week of the work leave for groups considered of high risk such as pregnant women and those with poor immune systems, to help contain the spread of the A/H1Ni flu virus.
These groups had already been protected by a fifteen days leave which ended precisely this Friday, and it was decided to extend the period. At provincial level some school winter holidays have been moved until August 3, and in others for another week, ending Friday 24th.
Earlier, the World Health Organisation said it would stop providing regular updates on the number of people affected worldwide, as the virus continues its march.
The WHO said in an information note on its website Friday that it would focus on regular updates from newly-affected countries, in order to keep track of the global progress of the A/H1N1 virus.
The influenza pandemic has "spread internationally with unprecedented speed," according to the Geneva-based UN public health agency.
In the last official figures it provided on July 6, the health agency recorded 94,512 cases in 136 countries and territories since April, including 429 deaths.