Taiana calls Gualeguaychú activists to reconsider position and lift pickets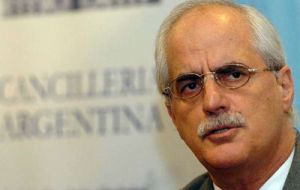 Argentine Foreign Minister Jorge Taiana called on Gualeguaychú activists that keep international San Martín bridge blocked for more than three years to "reconsider their ways of action, mostly after the International Court of Justice ruling".
Taiana added that "keeping the blockade is not the best way of protest" and considered that "the blockades do not help and are against the interests of the Argentine people."
The Minister finished saying that activists "should understand that what the International Court of Justice said has guaranteed that situations like the one with the Botnia Pulp Mill (now owned UPM-Kymmene Corporation – UPMKY) will not happen again".
On the other hand, Entre Ríos Governor Sergio Urribarri, and Gualeguaychú Mayor Juan José Bahillo seemed to be disappointed by the Court's ruling.
"It leaves us with a bitter taste, but we'll have to comply with the ruling," Urribarri said, and stated that "the hardest thing to do was accepting that the paper mill was going to remain."
"It was our understanding that since Uruguay was in violation of the river treaty, we thought the ruling was going to have a different response," he said, and later lamented that since "this was a decision coming from the International Court, they had no choice but to comply with it."
Gualeguaychú Mayor Juan José Bahillo called for everyone to "keep fighting" for their cause.
"This actually improves our situation and enforces us to keep fighting Botnia together," he said and defended the role of the Gualeguaychú assembly as "people who came out in defence of the environment."
Cabinet Chief Aníbal Fernández also weighted in on the conflict and said that after the Court's ruling, the government is doing "a whole analysis" regarding the roadblocks and said they are going to "keep working to find a solution."
"We've made a great effort and we have to keep working to come to a solution that gets rid of a very important problem" explained the cabinet chief, who asked everyone to be "cautious of doing any threatening or inflammatory actions or statements that have no use".
Meanwhile Gualeguaychú activists indicated to be preparing the sixth edition of the "March for Life" rally that will take place on the international San Martin Bridge next Sunday at noon.
Activists also said that the idea is to call for a large general and open assembly including all interested neighbours on May 2 to discuss the situations and decide which ways of protest will be taken from now on.