China-Argentina trade differences increase and are openly aired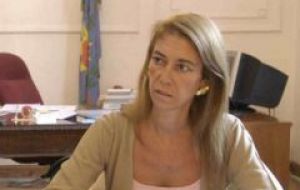 Production Minister Débora Giorgi came out to stage on Thursday to support Argentina's trading policies after comments made by China's Vice Minister of Commerce JIang Yaoping, who claimed the Argentine Government is increasingly promoting trade protectionism against Chinese products.

Giorgi told reporters that President Cristina Fernández de Kirchner's government "has never banned Chinese product imports. As a matter of fact they keep entering the country in a very fluent way."

Likewise, the minister took its moment to clarify that what the government is seeking is "to avoid any dumping of Chinese imports", and then remarked, "We have just taken some antidumping measures to protect the national industry, and the work of 600,000 Argentine workers".

Ms Giorgi said that all measures taken by the government so far are "the ones established by the World Trade Organization, plus we have not received any formal complaint from the Chinese government."

"China is one of our largest trade partners. All we want is to hold a healthy and respectful relation of healthy competition", she added.

Last week China stopped all imports of soybean by-products from Argentina alleging they contained certain residues above tolerance percentages.

From China's point of view the fact Argentina enhances "dumping investigations" so often against one country, is "totally anomalous and discriminatory" said Jiang Yaoping during an economic and cooperation forum in Buenos Aires.

Ms Giorgi denied vehemently any "trade discrimination" and referred to the fact that is spite of growing trade with China "we have an increasing deficit in our commercial relation with China".

The Chinese official claimed that Argentina initiated 18 anti dumping inquiries against Chinese products last year and in the first 90 days of 2010 "another two". Jiang Yaoping added that China has initiated 120 dumping demands against different products from different countries.

In 2009 Argentina exported mostly farm commodities valued in 3.6 billion USD while China exported 4.8 billion mainly manufactured goods (textiles, foot wear, plastics, machinery and equipments). Argentina's trade deficit with China was 1.2 billion and 600 million USD in the first two months of 2010.