Coming Antarctic Season 2010/11, the Last for Big Cruise Ships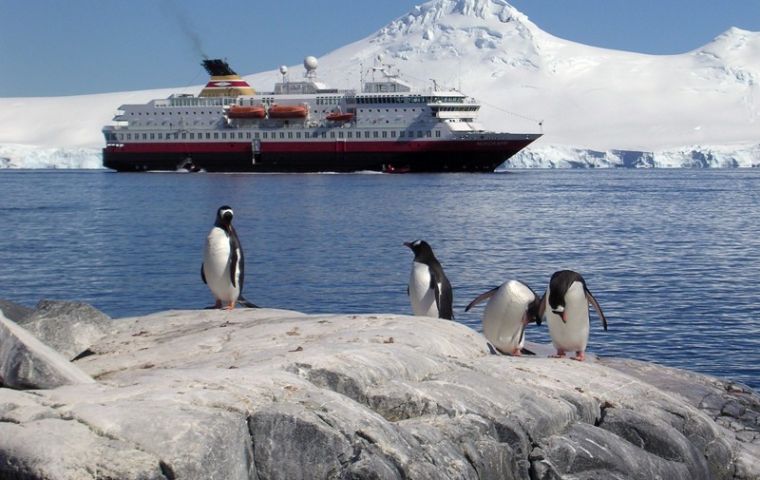 The Antarctica season beginning in November is likely to be the last one as it has been known. Proposed changes to the type of fuel ships are allowed to burn and carry in this fragile ecosystem have now become a reality, making the future of big cruise ships in Antarctica uncertain.
A rule was passed last year by the International Maritime Organization (IMO) banning the use and carriage of heavy fuel oils, the type of fuel commonly burned by big ships, in the Antarctic. The reasoning is that a spillage of this type of fuel is considered too much of a risk—and accidents do happen, as we witnessed in 2007, when Gap Adventures' M/S Explorer was holed by ice and sank.
The deadline for the actual implementation of the new regulation was set for August 21, 2011, making the forthcoming Antarctic summer the last time some lines are likely to visit the region. So what does this really mean for cruise ships in the region.
Most small expedition-style ships are unaffected, as almost all of them run on marine gas oil and marine diesel oil, neither of which is included in the ban. However, the International Association of Antarctic Tour Operators (IAATO) predicts that the number of passengers on "seaborne" cruises—voyages on big ships that cruise the region but don't land anywhere—could plummet from 14,350 this year to just 6,400 next year. Overall, the new rules could lead to a 23% decline in cruise tourism to Antarctica.
The problem facing the cruise lines is this: not only will ships be banned from using heavy fuel oil—but they won't be allowed to carry it, either. Practically speaking, the former is possible to manage; it's not uncommon for a ship to burn more economical, heavy oil for long sea passages and switch to a more expensive but less polluting fuel when nearer shorelines.
But, in Antarctica, the new rules on carriage would mean working out a complicated formula whereby all the "bad" fuel is used up before entering the area governed by the Antarctic Treaty (south of 60 degrees latitude) and "good" fuel is burned not only for the sailing in Antarctica, but the whole voyage back to South America, the nearest landfall and re-fuelling stop. Needless to say, "good" fuel is more expensive—a cost likely to be passed on to the passenger.
Steve Wellmeier, executive director of IAATO stated that: "This will mostly affect the large vessels that we put into the 'cruise-only' category (500-plus passenger vessels where no landings are offered to those aboard). Thus, companies like Holland America, Princess, Celebrity, Crystal and Regent Seven Seas will be impacted, although some of these are looking at using the lighter grade distillate fuels and complying with the ban."
A quick survey among some of these lines as well as Silversea showed a mixed reply.
Holland America Line has issued a statement confirming it will sail in Antarctica beyond 2011, saying that: "As a member of the International Association of Antarctica Tourism Operators (IAATO), Holland America Line is in full compliance with all governmental and environmental regulations that preside over Antarctic waters."
Royal Caribbean will also continue to send ships after the ban—but not from its Celebrity Cruises brand. Director of environmental programs Rich Pruitt told us: "Next year, we will send Celebrity Infinity to Antarctica, before the ban, and in 2012, Azamara Journey will be going".
As Azamara Journey is a mid-sized ship carrying only 700 passengers, Pruitt explains, it will burn much less of the approved, more expensive fuel than a larger vessel would. Regent Seven Seas Cruises spokesman Tim Rubacky said that once the ban is in place, the line will have no choice but avoid Antarctica.
"We haven't been given a communication that this has been formalized," Rubacky says, but once the word comes, there will be "no consideration whatsoever" given to switching fuels in order to comply. Regent simply won't go".
The same applies to Crystal. Mimi Weisband, vice president, public relations said: "The ban on certain fuel oils effectively prohibits large passenger vessels from sailing the region. With that in mind, our last sailing in the area will be January 20, 2011—a cruise from Valparaiso to Buenos Aires on Crystal Symphony" (Cruise Critic)