President Lula da Silva Visits Montevideo for Talks with Mujica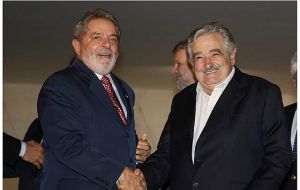 Brazilian president Lula da Silva is expected in Montevideo, Uruguay Tuesday afternoon to hold talks with his counterpart Jose Mujica, following the Unasur extraordinary presidential summit in Buenos Aires.
The two leaders will review the "long bilateral agenda" and continue with talks begun March 28 in Brasilia, basically the consolidation of the Bilateral Committee for Strategic Planning and Productive Integration, created at the time.
Parallel to the presidential meeting Uruguayan and Brazilian officials and private sector representatives will address "infrastructure and development" plans that include among others:
construction of an Atlantic port, close to the Brazilian border;
a convention centre in Montevideo; development of shared waterways and lagoons and fluvial ports;
productive chain integration;
digital television;
bridges across the border river Yaguarón;
mining and power;
railways inter-connection.
Brazil is not only the leading partner of Mercosur but also Uruguay's main trade partner. Even during the 2009 global slowdown bilateral trade jumped 20% and in the first quarter of this year another 30%. In 2009 Brazilian exports to Uruguay totalled 1.36 billion USD and from Uruguay to Brazil, 1.24 billion USD.
Furthermore in the last four years Brazilian corporations have invested heavily in Uruguay particularly in agro-business, power and banking. Brazilian Development Bank (BNDES) recently opened a branch in Montevideo to help finance structural projects and Mercosur cohesion plans.