US-China "top-level" summit talks in Beijing to address world affairs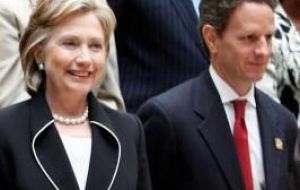 US Secretary of State Hillary Clinton pressed for greater commercial access for US businesses in China on Sunday, urging Beijing for a "level playing field". Ms Clinton spoke to US and Chinese business executives in Shanghai, following a tour of the World Expo.
Ms Clinton is headed to Beijing for two-day of talks that will touch on a wide range of issues of shared interest to the United States and China and which open Monday.
"For trade to work in any economy, for it to produce the benefits we know it can, there must be a level playing field where domestic and international companies can compete freely and openly," Clinton said.
"For example, transparency in rule making and standard setting, nondiscrimination, fair access to sales to private sector and government purchasers alike -- and the strong enforcement of intellectual property rights -- is all vitally important in the 21st-century global economy."
Clinton is leading a delegation of more than 200 officials from the Obama administration to China for the Strategic and Economic Dialogue. Assistant Secretary for East Asia Kurt Campbell called it one of the largest groups of Cabinet and sub-Cabinet officials from the United States ever to visit China.
The group includes "virtually all elements of the U.S. government," Campbell said.
Practically every agency of the US government is represented, including administration heavyweights such as Treasury Secretary Timothy Geithner, Health and Human Services Secretary Kathleen Sebelius, US Trade Representative Ron Kirk, USAID Administrator Rajiv Shah, Federal Reserve Chairman Ben Bernanke and Christina Romer, chairwoman of the president's Council of Economic Advisers.
Key players from the Pentagon and US Pacific Command will also be there.
"In the coming days, officials at the highest levels of our administration will discuss issues of economic balance and competition with our Chinese counterparts at the Strategic and Economic Dialogue in Beijing," Clinton said.
"President Obama has made this a priority and it is part of our broader efforts to build a more balanced global economy that will be less susceptible to crisis and contagion and will lead to prosperity that reaches further and deeper."
The meeting is a follow-up to the first Strategic and Economic Dialogue established by President Obama and Chinese President Hu Jintao in April 2009 in Washington, where the Chinese delegation was just as large.
But this year, the US faces a stronger China, whose political and economic stature has grown in the wake of the global economic crisis.
There is no shortage of issues for Clinton to talk about on the "strategic" front with her Chinese hosts, whose delegation is led by Vice Premier Wang Qishan and State Counselor Dai Bingguo.
US hopes that China will support a UN Security Council resolution imposing tough sanctions against Iran and work harder to rein in North Korea after a South Korean investigation found that a North Korean torpedo sank one of its warships.
The Chinese have plenty of their own complaints, including Obama's recent meeting with the Dalai Lama and US arms sales to Taiwan, which infuriated Beijing to the point of threatening sanctions against US companies taking part in the arms package.
The "economic" part of the dialogue, however, is even thornier.
The US wants China to provide more access to its markets for US exports and allow its currency, the Yuan, to appreciate.
With the economic crisis in Greece spreading to other countries in Europe and sinking the Euro, China is likely to argue that now is not the time.