Mrs. Kirchner to Beijing to mend trade relations with China
Wednesday, July 7th 2010 - 06:50 UTC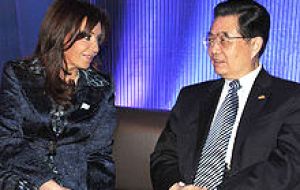 Argentine president Cristina Kirchner will be signing 10 billion US dollars in trade agreements with China during her official visit to the Asian giant scheduled to begin next July 13, according to Foreign Affairs minister Hector Timerman.
"It will be an extraordinary trip, and the President will be signing trade agreements for over 10 billion US dollars", underlined Timerman, who did not disclose details of the operations.
According to Timerman the visit will boost relations between "two very important partners, not only commercially but also in political affairs, since both countries are members of the G-20 and we share many issues in international forums".
Mrs. Cristina Kirchner is also scheduled to hold a meeting with her Chinese counterpart, Hu Jintao.
The original trip scheduled for last January was cancelled at last moment by the Argentine president following a political dispute with the opposition over the use of the country's Central Bank reserves to pay for sovereign debts.
China and Brazil are Argentina's main trade partners but bilateral trade relation with Beijing are not going through one of its best moments since Buenos Aires imposed some protectionist measures (deferred import licences) in 2009 in support of domestic production which had a negative impact on Chinese imports.
As a consequence China decided to increase sanitary requirements for Argentine soy-oil, thus drastically cutting into trade volumes.
The trade balance shows that Argentina sells to China mostly food commodities and farm machinery and equipment. In the opposite direction China ships mostly industrialized goods (98%) preferably textiles, plastic, industrial input, foot wear and light machinery.
China absorbs 70% of Argentine soy-oil (world's leading exporter) and in 2009 imported the equivalent of four million tons.
However since the trade spat, China has ceased all purchases of soy-oil.