Argentina/China sign 18 agreements; discussions to solve soy-oil dispute
Wednesday, July 14th 2010 - 06:07 UTC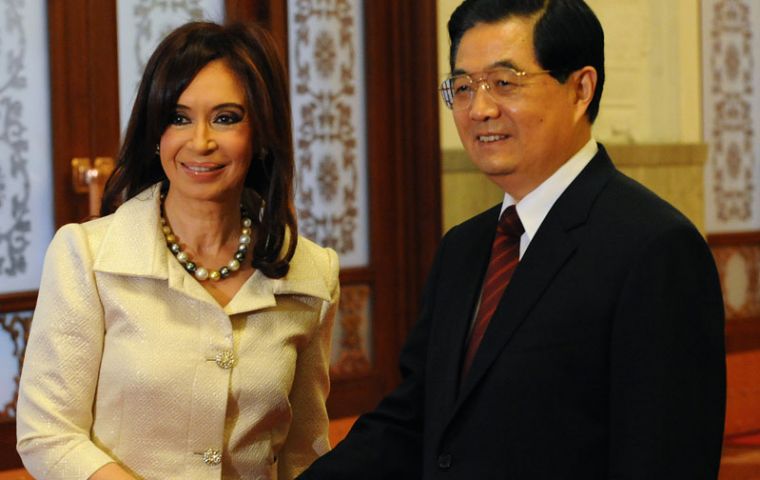 China and Argentina signed 18 agreements covering infrastructure, energy and railway projects on Tuesday during Argentine President Cristina Fernandez de Kirchner second day official visit which included talks with her Chinese counterpart Hu Jintao and with Vice-Premier Hui Liangyu.
Although no mention was made of China's ban of Argentine soy-oil imports, which is crucial for the South American country, it was later confirmed the issue was addressed and according to Chinese sources if both countries "follow the spirit of mutual interest and win-win attitude, through friendly consultations, a proper resolution can be found".
Following a welcome ceremony at Beijing's Great Hall of the People, Mrs. Kirchner said her closed talks with Mr. Hu Jintao focused on bilateral and global issues.
State media quoted Hu Jintao as saying that China wants to expand bilateral trade and investment, and promote cooperation in mining; transportation; finance; farming, forestry and animal husbandry; infrastructure construction; and oil and gas exploitation.
The two presidents attended the signing of 12 agreements, most of them covering the areas mentioned by President Hu Jintao. The agreements included a memorandum of cooperation between China's state petrochemical firm Sinopec and Argentina's Enarsa, and another for cooperation between Enrasa and China's state hydro—power firm Sinohydra. The China National Development Bank also agreed to provide a 150 million US dollars credit line.
Mrs Kirchner said she was "certain" both countries would "strengthen their relationship" after her visit. "Assuming that diplomacy can only be carried out by ambassadors or foreign ministers mean not-knowing how the world works".
The Argentine president said she believed that "all these matters had to be coordinated, both parties must be aware of what is happening in order for us to find some common ground". She added that "our goal is to have an important articulation in every sector, that's what we want to do".
President Hu Jintao replied by saying he considered her "a great friend of China" who has always "supported Chinese relations with Argentina," and remarked he was certain "both countries would move forward with the agreements."
Earlier in the day Mrs. Kirchner and Chinese Vice-Premier Hui Liangyu attended the signing of six agreements for Chinese assistance on railway and subway projects in Argentina with prospects of involving 10 billion US dollars.
Under the contracts, Beijing is to provide an export credit to Argentina for purchasing Chinese locomotives and will help with the construction of a light rail system, subways and the electrification of rail lines.
Before starting talks with Mr. Hu, the Argentine president publicly apologized for postponing her trip to China, which was originally scheduled for January, because of "internal problems" in Argentina.
China's Foreign Ministry on Tuesday said it expected the two nations to negotiate a resolution to the trade dispute over imports of soy oil. "The problem of exporting (Argentine) soy oil to China is a normal problem in the process of trade and economic development," ministry spokesman Qin Gang told reporters.
"I believe that if the two countries follow the spirit of mutual interest and win-win attitude, then through friendly consultations, a proper resolution can be found" Mr. Qin said.
According to Argentine government official María del Carmen Alarcón the meeting between the two heads of state had been "excellent" underlining they had discussed many issues, "including soy bean oil".
"The important thing in this trip was the diversity of products being sold to China" and that both countries have a mutual interest in solving the soy-oil dispute.
"We're going to have a series of meetings in the next few hours in order for us to find solutions" Mrs. Alarcón stated, adding that she felt "completely optimistic" about the outcome.
In April, China accused Argentina of using "abnormal and discriminatory" trade measures, escalating a dispute that erupted when China suspended imports of soy oil from Argentina.
Bilateral trade was valued at 14.4 billion US dollars in 2008, making Argentina China's second largest trade partner in after Brazil.
Mrs. Kirchner's five day visit to China, which began on Sunday, is the first to the country by an Argentine president since 2004. The Argentine president is scheduled to visit the World Expo 2010 in Shanghai later in the week