Mrs. Kirchner leaves China with no announcement on the soy-oil embargo dispute
Saturday, July 17th 2010 - 06:52 UTC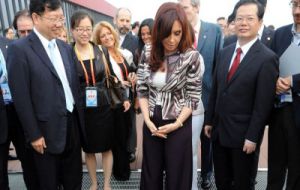 Talks between China, the world's biggest user of cooking oils, and Argentina regarding Beijing's ban on imports of soybean oil from Argentina are on course although the country is moving to alternative markets said President Cristina Fernandez de Kirchner.
If China continued to restrict shipments, Argentina can sell its soybean oil to other countries, such as India, Mrs. Kirchner told executives during a visit to the Shanghai World Exhibition. Argentina is the world's largest exporter of the commodity and China its main client taking an estimated 70% of total production.
China halted shipments in April as part of a dispute over antidumping measures. Beijing in May told companies including Cofco Ltd., the grain trader, that it will maintain the embargo and buyers should seek Brazilian and US supplies. China also had an excellent soy crop and has increased significantly its soy-oil processing capacity.
"The trade between us needs to be equal and beneficial to both sides" Mrs Kirchner said speaking through a Chinese translator in response to a question from a businessman in Shanghai. "We are now selling soybeans and soybean oil to India".
Argentina's Agriculture Minister Julian Dominguez told reporters last month that the two nations were on "good course" to resolve the dispute. The government was working to adjust production to meet Chinese standards, Dominguez said then.
Mrs. Kirchner ended late Thursday a five day visit at the head of a trade delegation and spent the last day in Shanghai, in a business forum and visiting the World Fair.
During her visit China and Argentina signed 18 agreements in different fields and Bejing agreed to work on rail projects worth at least 12 billion US dollars in Argentina, according to a statement from the Argentine embassy in Beijing.
China imported 784,157 metric tons of soybean oil in the six months from October first, according to Chinese customs data. Argentina supplied 80%, the rest coming from Brazil and the US.
Soybean oil and rival palm oil are the world's most consumed edible oils, accounting for more than 60% of the global market, and Argentina is the third-largest exporter of soybeans after the US and Brazil.
During her day visit to Shanghai Mrs. Kirchner praised the development of the city.
"Shanghai is more prosperous and beautiful now than when my first visit in 2004", said the Argentine president during a meeting with Shanghai Mayor Han Zheng.
Over 40 heads of states and governments from various nations had visited Shanghai since the opening of the Shanghai World Expo on May 1, Han said, adding that 15 state and government chiefs were expected to attend the closing ceremony scheduled for the end of October.
Kirchner said the Expo was a "real world gathering" and reiterated Argentina's support to the event which has a participation of 189 countries and 57 international organizations.
"We will introduce Shanghai's experience to Argentina after this China visit" added Mrs. Kirchner who began late Thursday night her return trip to Argentina.