Argentine government accuses Clarín and La Nación of conspiring with military regimes
Wednesday, August 25th 2010 - 04:07 UTC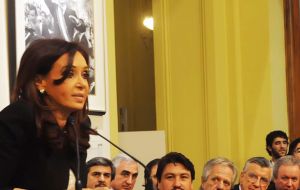 The Argentine government moved Tuesday to take over the country's only newsprint maker, alleging two leading newspapers illegally conspired with military dictators to control the company three decades ago and then used it to drive competing media out of business.
President Cristina Fernandez de Kirchner said the courts should decide whether the Grupo Clarin and La Nacion media companies should be charged with crimes against humanity, specifically whether the newsprint company was illegally expropriated by the newspapers and the military junta.
The companies, with which Mrs. Kirchner has been feuding for two years, deny any illegality in the acquisition of the newsprint maker, or other crimes. They accuse the government of trying to control the essential newsprint needed to guarantee freedom of expression, a position supported by the Inter-American Press Association and other media groups.
Speaking in a national broadcast from Government House, Mrs Kirchner said she was defending "true freedom of expression" and the interests of the minority shareholder, "not the state but the Argentine people". She accused Grupo Clarin and La Nacion of using the newsprint company, Papel Prensa SA, to impose media monopolies on Argentina, stifling other viewpoints by refusing to sell paper at fair prices to competitors.
She showed a headline from the opposition Clarin newspaper saying "Who controls Papel Prensa controls the written word," and said she couldn't agree more.
"Papel Prensa is the only company that produces newsprint in this country" Mrs. Kirchner said, "and it's a vertically integrated monopoly. It determines who it sells to, how much it sells and at what price. And so yes, whoever controls it controls the written word in the Republic of Argentina."
Mrs. Kirchner presented the conclusions of a government investigation of Papel Prensa's history and economic activities — some 23,000 pages in all, stacked in large piles on a table beside her podium — and said her human rights secretary would send it to the justice system for consideration of rights charges against owners of the two media companies.
She further said she would propose legislation declaring newsprint supply to be a matter of national interest, subject to government and Congressional regulation that guarantees equal and fair distribution to all of Argentina's newspapers. Papel Prensa sells newsprint to more than 130 clients across the country. And she said the Executive branch would invest to develop enough newsprint domestically to supply all the country's needs. "This product should not be imported," she said.
Mrs Kirchner said the newspapers obtained Papel Prensa through a forced sale in 1976 at a time when the military junta was doing all it could to destroy the company's owner, David Graiver, a prominent banker who was secretly supporting the leftist Montonero guerrillas at the time. Graiver died in a suspicious plane crash, sending his company into bankruptcy and leaving his widow, Lidia Papaleo, and parents to face the dictators.
"And five days after she signed (the papers selling the company), she was detained. And during her detention, she was raped, tortured, beaten in the head. The same luck was suffered by her in-laws and other members of their company," the president said. "They had been forced to sell — and their detention was delayed so that the buyers could claim they obtained the company in good faith."
The owners of La Nacion and Clarin denied participating in any crime against humanity, saying that Papaleo freely sold the company to emerge from bankruptcy before beginning her long jail term and that she never formally alleged any forced sale or fraud after Argentina recovered its democracy.
"Never, in 27 years of democracy, has Papel Prensa faced an administrative or judicial question about its origin," they said in a joint statement earlier Tuesday.
After President Cristina Kirchner's broadcast, Clarin ran a headline quoting an opposition lawmaker as saying "Today the government crossed the line between democracy and authoritarianism." A headline in La Nacion declared: "The President wants an official press."