Argentina calls on Mercosur to become world's main agro-food business region
Thursday, September 2nd 2010 - 21:08 UTC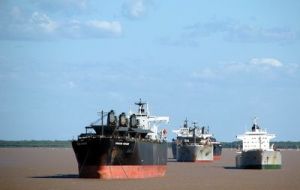 Argentine president Cristina Kirchner called on Mercosur partners to convert the group into the world's leading agro-food business region and to put an end to asymmetries.
"We need to deepen articulation with Brazil, which must include Uruguay and Paraguay", said Mrs Kirchner in her closing speech before the Argentine seminar on the Agro-food, Agro-industry Strategic Plan 2010/2016.
She put as an example the contract signed with the Argentine-Belgian company Hidrovía to dredge and signal 650 kilometres of the River Parana from the River Paraguay south to the River Plate, heartland of Argentina's rich farm land and the natural access for landlocked Paraguay.
"This is the main watercourse of Mercosur and is vital for fluvial transport and trade in the region", said the Argentine president.
Mrs. Kirchner added that "we need to move forward with other infrastructure projects towards the Pacific, as proposed by Brazil so we become the most important countries in food production. We call on all members to definitively end with asymmetries and processing of commodities in origin".
The Argentine president also revealed that with her Brazilian counterpart Lula da Silva "we have held talks so as not to compete in foreign markets independently but united, because this would further strengthen our countries as main players in world food markets".
"This way we might become the main players of the XXI century in those markets given the diversity, technology and our surpluses. This has been a strategic decision which will be further advanced in other fields such as the industry sector", said Mrs Kirchner.
According to the Argentine leader food demand will double by 2030 and "supply won't be sufficient to cover world demand".
Brazilian Agriculture minister Gerardo Fontelles was also present at the ceremony and said both countries have begun working on a joint agriculture agenda which "is the main trade axis for the coming years".
"The task is hard, but we have experience to share, we have development and an integrated model with Mercosur (Uruguay and Paraguay, besides the two senior members) which we must strengthen", underlined Fontelles.
The dredging and signalling contract will make the Parana River navigable 24 hours a day, reducing costs and time for the transport of valuable commodities such as grains and oilseeds.
The river is to be dredged to 28 feet in 2011 and in a second stage to 32 ft.
On the River Parana lies the city of Rosario, also known as "soy city" because it concentrates the oil seed production from central Argentina, Paraguay and some southern areas of Brazil.
The 115 million US dollars contract bill will be financed by the Argentine government but no toll will be charged to vessels for the three year period.