Argentina warned: "Falklands' defences remain strong
Sunday, October 17th 2010 - 15:04 UTC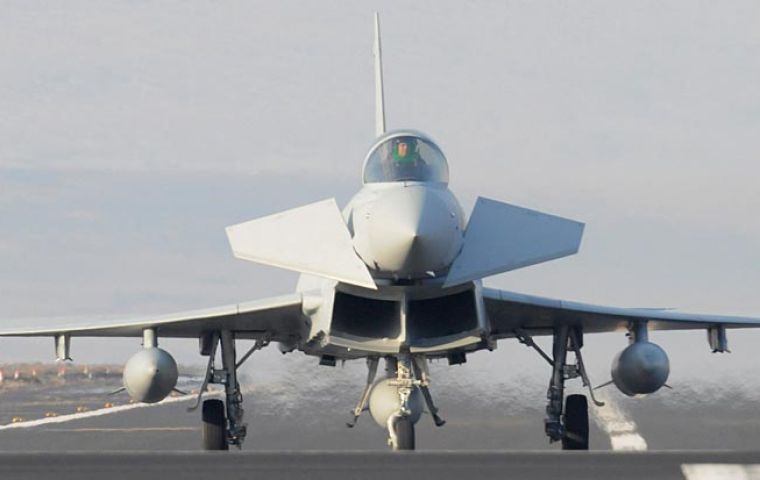 As the United Kingdom reviews the strength of its armed forces amid severe Government economic cuts, the Secretary of State for Defence, Doctor Liam Fox, has declared that the defence of the Falkland Islands remains strong.
In a BBC television interview he dismissed suggestions that Britain could not now launch a 1982 type Falklands rescue attempt if Argentina ever attempted to invade again. He replied: "If anyone thinks that the Falklands Islands defence is weak, they should think again".
The Defence Secretary's assurance comes as Argentina persists in pursuing its campaign for sovereignty over the Falklands as the Islands continue to prosper as a democratically-ruled British territory enjoying self-determination.
Dr Fox said Britain is far stronger militarily than Argentina and that the Falkland Islands are defended by some of the most modern weapons such as Typhoon strike aircraft deployed at Mount Pleasant military base. He said that the Islands are also defended by submarine patrols. The Mount Pleasant base, constructed since 1982, facilitates rapid reinforcement not available at the time of the Argentina invasion.
While some parts of the armed services face economic cuts, the Defence Secretary said Britain would maintain its ability to project air power wherever in the world this was needed. He confirmed that Britain is going ahead with the building of two huge aircraft carriers already under construction, ordered by the previous Labour Government.

He rejected suggestions that Britain would be vulnerable between deployment of the future joint European strike aircraft on the carriers and the phasing out of the present Harrier jump-jet force, which performed so effectively in the Falklands war. Harriers have been deployed along with helicopters on three smaller aircraft carriers with upswept decks to facilitate Harrier take-off – the Ark Royal, Invincible and Illustrious.
Doctor Fox has first- hand knowledge of Falklands' defences which he inspected on a 25th Anniversary visit in 2007.
In the television interview, he dismissed concerns about the viability of a future Falklands Task force expressed by defence experts such as Lord West, a former head of the Royal Navy and captain of HMS Ardent sunk in the Falklands war with many of his crew killed or wounded.
Dr Fox said Britain's defence capability is designed to meet the commitments of the future not the past, a reference to the run-down of forces deployed in Europe left over from the Cold War threat from the Soviet Union and the Warsaw Pact. The Prime Minister, David Cameron, has agreed that cuts to Ministry of Defence spending will much smaller than for most other Government departments.
Harold Briley, London