China offers to finance US infrastructure and help create jobs
Wednesday, November 3rd 2010 - 00:27 UTC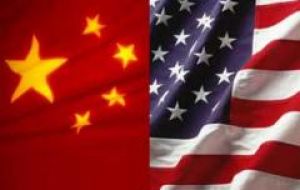 China's sovereign wealth fund has urged the Obama administration to spend 1trillion US dollars on infrastructure over the next five years, to create jobs and improve US competitiveness.
Zhou Yuan, head of asset allocation at China Investment Corporation (CIC), said Beijing would be willing to invest in such projects. CIC manages part of China's massive foreign exchange reserves, an estimated 300 billion in both domestic and overseas investments.
"We are advocating that the US government start a program to invest a massive amount of equity, in the form of public and private equity partnership, in US infrastructure," he said at a conference of the Chinese Financial Association in New York over the weekend.
"Infrastructure projects of this kind will serve to create a lot more jobs than simply QE2, or QE3," Mr Zhou added. He was referring to quantitative easing; the monetary policy that aims to reduce long-term interest rates and boost economic growth. The US unemployment rate is currently 9.6%.
Beijing-based CIC believes Washington should focus on improving high speed links between US cities, as well as super high-voltage transmission lines. Mr Zhou added that the expansion would create 500,000 high-paying manufacturing jobs.
Asked by BBC News whether CIC would invest directly, Mr Zhou said: "If the conditions are right, and if, on a risk return basis, we believe this is a good investment, then yes.
"But of course, we want to emphasise the fact that we are going to be a passive investor. We're not here to run anything or to own anything."
President Barack Obama has proposed spending 500 billion USD on improving infrastructure over the next few years. Congress has not yet approved the idea.
Mr Zhou, a fluent English speaker, admitted that his proposal may be a tough sell in some parts of the US. But he invoked John F Kennedy in his pitch: "It's time to figure out how you can help your country, rather than what your country can do for you".