Drought stricken-Uruguay praises Argentina's "formidable gesture"
Monday, December 27th 2010 - 09:07 UTC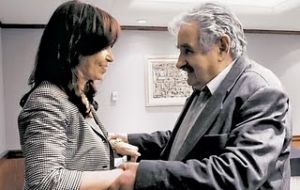 President Jose Mujica described as a "formidable gesture" the Argentine government's decision to facilitate the export of grains and fodder to Uruguay which in under an "agriculture emergency" because of a severe drought that threatens much of the cattle to the north of the country.
"We want to make a public acknowledgement to the Argentine government for this formidable gesture, for which it had no obligation", said Mujica during his daily radio program "The president speaks".
"Argentina is ready to supply us with thousands of tons of grains and food for cattle suffering the consequences of the drought", said Mujica.
To facilitate the dispatch of grains and fodder for thousands of head of cattle, the government of President Cristina Fernandez de Kirchner "will be making a fiscal sacrifice, which is a great solidarity gesture" explained the Uruguayan president in direct reference to the controversial Argentine export taxes that will not be applied to sales to Uruguay.
"I feel it's a kind of end of the year prize, because solidarity must also be considered as a gift", underlined the Uruguayan president who added that relations "with the neighbours" are top priority of Uruguayan foreign policy.
"For Uruguay no other international relation is as important as relations with Argentina and Brazil", said the president who recalled that the three countries plus Paraguay are partners and the hard core of the Mercosur trade block.
"We obviously have other very valuable relations, but none have the importance or significance that our relations with the neighbours", concluded the Uruguayan president.