Bolivian Cabinet Changes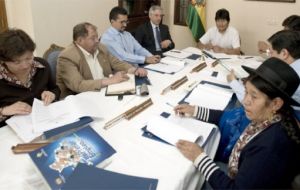 Bolivian President Evo Morales has reinstated 17 of his cabinet members and changed three in a cabinet shakeup the state news agency ABI reported. Over the weekend all twenty ministers had tendered their resignations to President Evo Morales, as he began his sixth year in office. The cabinet changes come as Morales popularity drops according to opinion polls.
President Morales replaced his production, environment and energy ministers. The changes take place following a failed attempt to raise fuel prices in the gas producing country, following the end of fuel subsidies at the end of last year causing the price of gas to rocket. Following major protests Morales has to reinstate the subsidies.
Sworn in as Morales' sixth energy minister, was Jose Luis Gutierrez, who had been deputy minister of industrialisation and hydrocarbons. Since he began his term in office Morales has nationalised the industry and raised taxes on foreign companies.
Gutierrez said he will maintain the government's line to secure state control over the industry.
Morales rectified Luis Arce as economy minister, in spite of criticism from union leaders and their demand that he be fired because of his role in the increase of fuel prices.
Bolivia has the second largest natural gas reserves in South America, after Venezuela and is the region's top exporter of the fuel.
According to the state run news agency Morales asked his cabinet for "compromise" and "sacrifice" as they took office.