Argentine jiggers pleased with current squid season catch levels
Monday, February 14th 2011 - 20:41 UTC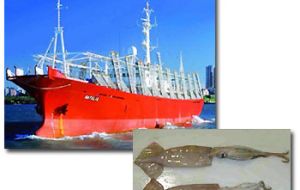 Argentina's catches of squid (Illex argentinus) are averaging 20 tons per day and there's no activity outside the country's Exclusive Economic Zone (EEZ), according to the first landing reports.
The owners of 32 jiggers operating in the region say they are pleased with the current level of catches and are optimistic about the abundance of the cephalopod for the rest of the season which begun February first. Apparently catches are concentrated in the area located between 47° S and 63° W.
However in spite of the current optimism the biological status of the squid fishery is unknown. A study is to be conducted by scientists from Argentina's National Institute for Fisheries Research and Development, Inidep. The research cruise is delayed because the vessel 'Eduardo Holmberg' is waiting for repairs.
According to the Argentine publication 'Revista Puerto' jigger owners do not know whether the current squid catches belong to the summer spawning stock (SDV) or the sub-Patagonian stock.
Regarding prices, the sector is not clear as to where they are standing at the moment because no sales have been recorded yet. In 2010 a ton of squid tubes from the spring spawning stock (SDP) exceeded 3,000 US dollars a ton, while whole squid was selling at around 1,500 USD and a little more for the tentacles.
"What the squid sector would like is that the current abundance remains moderate and that prices are maintained in order to compensate for bad several consecutive seasons which forced many companies into receivership", said the spokesperson for the Chamber of Jigger Owners of Argentina (CAPA).
"The data collected from vessels currently operating in that catches are good and all indicates that there are more squid within the EEZ than outside of the 200 miles. Hopefully this means we would not have to compete with foreign fleets", added CAPA's spokesperson.
Data provided by Argentina's Fisheries Sub-Secretariat shows that during January 2011 squid landing totalled 549,3 tons, which is 80.1% less than in the same period of 2010 with 2.758.3 tons landed. (FIS/MP).-