Falklands' oil company announces further drilling and seismic surveying
Monday, March 14th 2011 - 18:01 UTC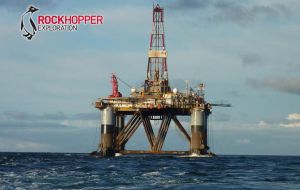 One of the Falkland Islands oil and gas exploration companies currently involved in the oil exploration round with licences granted by the Falklands' government announced it plans further drilling and has acquired new 3D seismic data while it continues with the wider seismic program.
Rockhopper Exploration plc (AIM: RKH), the first company to have struck oil in the current round, announced Monday it has entered into an agreement to secure three additional well slots with the 'Ocean Guardian' drilling rig.
Rockhopper intends to utilise these three well slots after Desire Petroleum plc completes drilling operations on its next well, which follows the appraisal well currently being drilled by Rockhopper.
The company further announced that the acquisition of new 3D seismic data to the south of the Sea Lion discovery well, on licence PL032, has been completed and the Company intends to fast track the processing of this data.
It is anticipated that the resulting processed data will become available to the Company during July 2011. The wider seismic acquisition programme, over areas of licences PL024, PL032 and PL033 and adjacent areas, is ongoing.
"The additional rig slots will see Rockhopper continuing an exciting and considerable work program in the North Falkland Basin this year. Our understanding of the basin has advanced following the Sea Lion discovery, and will be further enhanced by our current appraisal operations, together with new seismic data. This information will be valuable in identifying our forward drilling program", said Sam Moody Rockhopper CEO.
A release on the company's background states that Rockhopper floated on AIM in August 2005 and holds a 100% interest in four offshore production licences: PL023, PL024, PL032 and PL033 which cover approximately 3,800 sq. km. Rockhopper has also farmed in (7.5% working interest) to licences PL003 and PL004, which are operated by Desire Petroleum.
Rockhopper drilled an exploration well on its Sea Lion prospect during April and May 2010, the result of which was the first oil discovery and Contingent Oil Resource in the North Falkland Basin.
The Sea Lion discovery was successfully tested during September 2010 and was the first oil to flow to surface in Falkland Islands waters.
Rockhopper has contracted seismic vessels MV Polarcus Asima and Nadia to carry out a 3D seismic survey, beginning December 2010, over areas of licences PL024, PL032 and PL033 which were not previously defined by 3D, as well as adjacent areas.
Rockhopper is currently carrying out further drilling on Licence PL032.