Nobel laureate promises to speak about politics in Buenos Aires book fair
Tuesday, March 15th 2011 - 09:38 UTC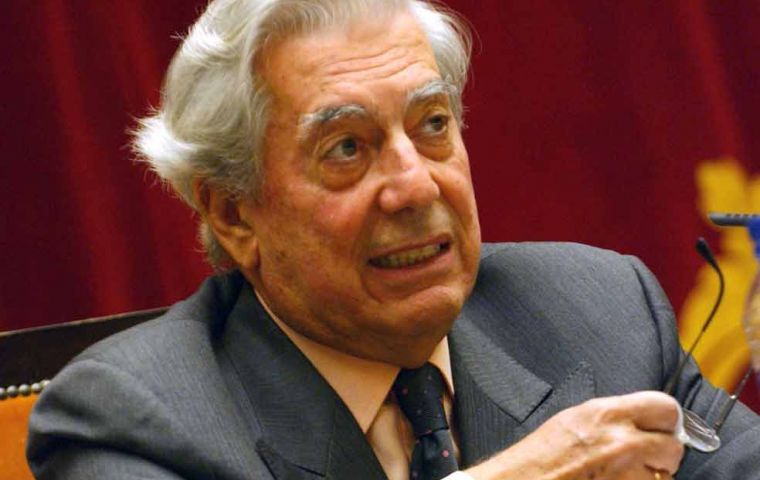 Nobel Prize Mario Vargas Llosa has said he will speak about politics in his inaugural speech at the international book fair in Buenos Aires after a group of intellectuals tried to veto his presence in Argentina, according to the Buenos Aires media.
"The situation they created is forcing me to speak about politics. It would be a terrible oversight not to talk about my positions and my ideas when they wanted to prohibit me from doing so" said the Peruvian writer, who revealed that before the controversy, he had been planning to give a purely literary speech.
"Now it's a question of dignity, of consistency, and it would be frustrating for those who wanted to hear me if I don't acknowledge that I am aware of the accusations that were made against me," he added.
A group of intellectuals who are members of the Carta Abierta, an organization that supports President Cristina Fernández de Kirchner's government, tried to prevent Vargas Llosa from speaking at the event on April 20 due to his political positions.
"The fact that there is a group of people that try to veto and censor their colleagues because they don't think like them seems to me part of the worst Latin American tradition that we are trying to free ourselves of, and only reinforces my ideas about democracy and liberalism — about tolerance, essentially" said the Nobel laureate.
Nevertheless Vargas Llosa thanked President Cristina Kirchner for putting a stop to the veto. "I thank Madam Kirchner for her intervention, which leads me to believe that she is far more lucid than the intellectuals who advise her" he underlined.