Argentine economy expanded 9.2% in 2010 and begins 2011 with a"6% floor"
Saturday, March 19th 2011 - 07:13 UTC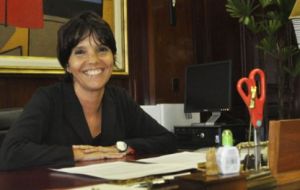 Argentina's economy grew 9.2% during the last quarter of 2010 compared to the same period in 2009, according to an official report from the government's statistics office, Indec. The country's GDP also increased 2.5% compared to the previous trimester and totalling 9.2% growth during 2010.
Private consumption which rose 11.5% during the last quarter of 2010, high exports to neighbouring Brazil and bumper crops fuelled Argentina's strong performance.
Last year's GDP 9.2% expansion contrasts sharply with the meager 0.9% growth the government reported in 2009.
Rapid expansion is expected to continue this year, starting on a 6% 'floor' forecasted central bank President Mercedes Marco del Pont. She also anticipated the bank expects private consumption to continue driving growth in 2011 with investment rising to 24% of GDP, the highest percentage in the last 30 years.
Government spending is likely to remain high in the run-up to October's presidential election, in which President Cristina Fernandez is expected to seek a second term.
However the weak point in this encouraging growth scenario is inflation, which according to Indec last February annualized rate reached 10%, a percentage repeatedly questioned by private analysts. Most economists accuse the government of manipulating inflation data and say the real rate is at least twice the official figures.
Inflation, which erodes consumers' buying power and pushes up business costs, will likely accelerate in 2011, with the latest monthly survey of inflation expectations published by Torcuato di Tella University showing Argentines expect consumer prices to rise 30% during the next 12 months.