Visiting officials to Argentina will have pay homage at the Malvinas cenotaph
Saturday, April 2nd 2011 - 19:42 UTC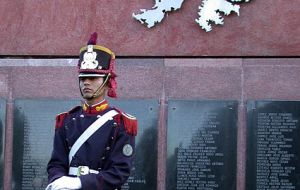 Argentina will change its official protocol for visiting officials: besides the traditional flower wreath at the monument of General Jose de San Martin, visitors will also have to pay homage to the fallen in the Malvinas Islands at the cenotaph with their names at the Wall pages.
Argentine President Cristina Fernandez de Kirchner made the announcement Saturday in Rio Gallegos during the event commemorating 2 April 1982, also known as the Malvinas War Fallen and Veterans Day.
"This does not make us a belligerent or warmonger nation, on the contrary it makes a nation of memory and of honour" said Cristina Fernandez.
She added that the XXI century will belong not belong to those that have the most powerful weapons but rather to those "countries with dignity, honour and manage to remain united and develop science and intelligence".
The Malvinas memorial in Buenos Aires is located in the San Martin Plaza and similar to the Vietnam memorial has stark plaques with lists of names of Argentines who died in the conflict.
An eternal flame burns over a metallic image of the Islands, and the three main branches of the military, the Army, the Navy, and the Air Force, each guard the monument in 2-week rotations.