Humala leads in Peruvian presidential race and a run-off June 5 is almost certain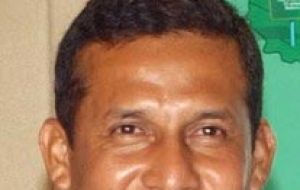 Nationalist candidate Ollanta Humala consolidated his lead in Peru's presidential race according to the latest public opinion polls published Sunday in the country's main dailies. Earlier in the week Humala promised investors he would manage the economy prudently and respect foreign investors despite his radical past.
Sunday polls have Humala with 27% according to Ipsos survey and 28% by pollster CPI, from last week's 22.8%, which means he is between seven and 10 percentage points ahead of his three closest rivals with less than a week for Sunday April 10 vote.
Lawmaker Keiko Fujimori, former president Alejandro Toledo and ex Prime Minister Pedro Pablo Kuczynski are all nearly tied for second place.
Keiko has 20.5% (down from 22.3%), Toledo 18.5% (in free fall since last February, he lost 3 points in the last week) and business friendly Pedro Pablo Kuczynski 18.1% (up three percentage points and soaring since his 5% floor just three weeks ago).
One of those candidates will likely face Humala in a run-off election on June 5 since no candidate is projected to win an outright majority of votes (50% plus 1) next Sunday.
Humala won the first round in the 2006 race but lost a run-off to President Alan Garcia, who cannot run again.
To improve his chances in the second round, former Army commander Humala has tried to recast himself as a political moderate by promising to keep inflation low and stick to sound fiscal policies. He has also started wearing suits and calling himself a devout Roman Catholic to appeal to more centrist voters.
But local financial markets have been rattled in recent days on worries he would pursue an economic agenda with strong government intervention and unfriendly to foreign investment.
Nevertheless analysts have said his Nationalist Party would have few seats in Congress, hindering its ability to push big changes through the legislature.
"We will always be open to dialogue (with investors and Congress). We promise to maintain macroeconomic prudence and a balanced fiscal position" he told foreign correspondents over the weekend. "I don't think there's any reason not to believe us."
The Ipsos poll interviewed 2.000 people with an error margin of 2.2 percentage points in the poll conducted March 26 to April 1. The CPI poll covered 1.500 people.
The Ipsos poll showed Humala would be highly competitive in the second round, though the CPI poll showed he would lose to any potential rival.
Peru's economy based in commodities' exports and light manufacturing has been growing steadily for several years now having expanded 9% in 2010 and forecasted to increase 7% this year, one of the best world' performances.