Peru/Mexico sign trade agreement, fist step for a regional expansion towards Asia
Friday, April 8th 2011 - 22:45 UTC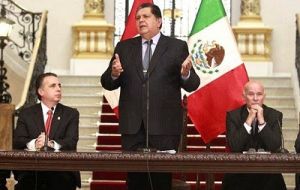 Peru and Mexico signed this week a trade agreement with the aim of jointly reaching out to Asia, an undertaking that they want Chile and Colombia to join
The signing of the accord in Lima took place in the presidential palace in the presence of head of state Alan Garcia, Mexican Economy Secretary Bruno Ferrari and Peru's ministers of Economy, Ismael Benavides; and Foreign Trade, Eduardo Ferreyros, among other officials.
With the signing of the treaty "we feel that we're recovering this Mexico that we love so much, whose presence in the South American region is going to have revitalizing effects," Garcia said.
He added that Mexico represents a market of 112 million people, four times Peru's population and with a GDP of one trillion US dollars the second largest of Latin America.
Peru is associating with "an economy of great dimensions, great growth, great vitality that is linked to the world's largest economy, the United States" Garcia said.
Mexico's total exports exceed 300 billion US dollars per year and imports amount to 320 billion, while trade with Peru "was an insignificant 1.41 billion USD in 2010, pointed out Garcia.
He added that "this is a decisive step to draw closer to Mexico, but it is also a preliminary step for a major project on which we're working with Chile and Colombia, in addition to Mexico".
The Peruvian president said that the project seeks "a deep integration of our four countries, in the exchange of products and people, to expand towards Asia".
"After overcoming great obstacles, we're attaining a shared vision and we're addressing the common task of building a more prosperous and fair future for our peoples" said Mexico's minister Ferrari.
He emphasized that Peru has the most dynamic economy in South America and revealed that Mexican firms have invested 3.7 billion USD in the Andean nation.
"At present, trade with Peru creates 23,000 jobs for Mexicans. With the signing of the accord that number can almost double over the next five years with the creation of 17,000 new jobs," Ferrari said last week as the negotiations in Lima were concluding.