Argentine de facto president following Falklands' war defeat sentenced to life imprisonment
Thursday, April 14th 2011 - 23:22 UTC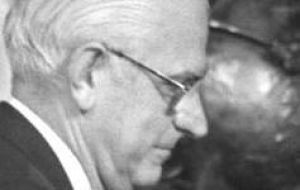 The military officer who as de facto president led Argentina following the Falkland Islands invasion defeat in 1982 was sentenced to life in prison over human rights violations committed during the country's last military dictatorship, 1976/1983.
San Martin's Federal Court Former found former de facto President General Reynaldo Bignone guilty for his involvement in illegal imprisonments, torture and disappearances. Bignone had already been sentenced to 25 years in jail last year for kidnappings and torture that occurred at the Argentine's Army main base, Campo de Mayo, where an estimated 5.000 people were deprived of liberty, forcibly interrogated or tortured during the seven year military rule.
The Argentine military Junta nominated Bignone de facto president following the resignation of the three members, Galtieri, Anaya and Lami Dozo, considered responsible for the defeat in the Falkland Islands of the Argentine invading forces.
On December 1983, Bignone handed over office to Argentina's first democratically elected president since 1973, Raul Alfonsin.
Together with Bignone, Deputy Sheriff and former Mayor of a Buenos Aires county, Escobar, Luis Abelardo Patti was also sentenced to life in prison over human rights violations.
The San Martín Federal Court considered Patti to be the "main participant" in an aggravated double homicide, for treachery and premeditated participation of two or more people, besides being found responsible for the illegal raids, illegal deprivation of liberty and torture.
The former Sheriff was found guilty in the murder of Gastón Gonçalvez, the kidnapping and the murder of former lawmaker Diego Muniz Barreto, among other cases occurred in the Northern area of the Buenos Aires province, in the districts of Escobar and Garín.
Besides Bignone and Patti, the court also sentenced to life in prison the former head of Campo de Mayo's Military Institutes of Commando units and Argentine ambassador in Uruguay in the eighties, Santiago Omar Riveros and the ex officer of the intelligence unit of the Army First Corpse, Martín Rodríguez. Escobar's ex Sheriff Juan Fernando Meneghini was sentenced to six years in prison.