Canadian company ready to begin exploiting lithium in north Argentina
Tuesday, April 19th 2011 - 04:18 UTC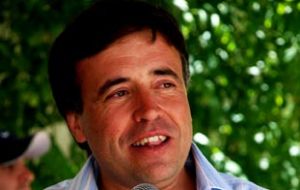 Canadian miner Lithium Americas Corp said it plans to start building a lithium carbonate facility next year at its Cauchuri project in the Argentine province of Jujuy. The plant with a total capacity of 40,000 tons per annum is expected to start adding to the company's revenue in 2014, Lithium Americas said in a statement.
The 398 million US dollars plant is to be designed to exploit about half the project's resources over a 40-year mine life at operating costs of 1.434 USD per ton. Production should begin rolling out in 2012.
The company said the preliminary economic assessment of the Cauchari-Olaroz lithium brine project, which is estimated to be the third largest in the world, did not include by-products potash and borax.
In December, Lithium Americas had estimated total measured and indicated resources of about 1 million tons of lithium metal and 5.3 million tons of lithium carbonate at the Cauchuri project.
Interest in Lithium carbonate, used most popularly in hybrid vehicles, computer and smart-phone batteries, has surged recently as countries across the globe look to cut their dependence on crude oil to meet their energy needs.
Waldo Perez, president and CEO of Lithium Americas, said the scoping study shows that Cauchari has the "potential to become one of the lowest cost lithium operations in the world."
Cash operating costs per ton lithium carbonate came in at 1,434 USD putting it in the ballpark of other major lithium brine miners. By way of comparison, Chile's SQM, the world's leading lithium producer, reportedly has cash costs in the 1,600 to 1,800 USD per-tonne range at its Atacama lithium-brine mine, according to a Patersons 2010 research note to investors.
Lithium Americas has two key investors, Magna and Mitsubishi, lined up to potentially help it finance mine building. Both hold sizeable stakes in Lithium Americas, about 13% and 4% respectively, and options to exercise off-take agreements.
The off-take agreements would give Magna the right to up to 25% of Cauchari's lithium carbonate, and Mitsubishi up to 12.5% of lithium carbonate. If they opt in, both agreed to lend or arrange interest-free loans to Lithium Americas equal in proportion to their off-take.