Fiat will manufacture in Argentina combines and specialty tractors for Latam
Wednesday, April 27th 2011 - 08:26 UTC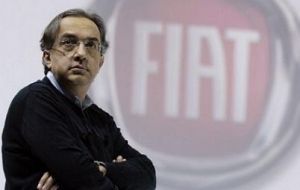 Italy's Fiat Industrial, through its affiliate CNH, will set up a plant in Argentina to manufacture powerful combines and specialty tractors destined for the Latin American market. The plant will create some 600 direct and 1,500 indirect jobs, CNH said in a statement on Tuesday.
"The initial investment of over 100 million US dollars will include the launch of new, localized product lines and expansion of the Fiat Industrial complex in Cordoba, Argentina," CNH said.
The announcement was made after a meeting in Buenos Aires between the chairman of Fiat Industrial Sergio Marchionne and Argentine President Cristina Fernandez.
The products are expected to be launched as early as the fourth quarter of this year, the company said. Argentina and neighbouring Brazil are major growers and exporters of oilseeds and grains.
"This investment is key to our growth strategy in Latin America," said Sergio Marchionne, chairman of Fiat Industrial in a written statement. "It will provide more efficient access for Latin American customers to products that are currently imported."
CNH, which also builds construction equipment, already has four assembly plants in Brazil. Argentina and Brazil are major producers of grain for the global commodity market.
CNH, the world's second-largest manufacturer of farm equipment by sales, and rivals Deere & Co. (DE) and Agco Corp. (AGCO) all have been targeting South America for expanded sales. Deere (DE) the world's largest farm equipment company based on sales, has recently expanded its product lines in the region. Agco, the maker of Massey Ferguson-branded equipment, is the market leader in tractors in Brazil.