Argentina's construction activity up 4% in March in spite of eight holidays
Friday, April 29th 2011 - 21:50 UTC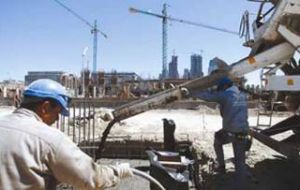 Argentina's construction activity was up 4% in March from the same month a year ago, the smallest increase in at least 15 months. In comparison, construction activity in March 2010 was up 12.8% on the year.
The seasonally-adjusted data, published Friday by the national statistics agency, Indec, appear to indicate that Argentina's economy is expanding at a slower pace.
But March had two four-day weekends, during which many builders and workers were on vacation. The long weekends were new to Argentina this year, meaning builders didn't have as many days to work as they did in March 2010.
The data showed activity fell 1.8% from February, Indec said. Last year, the measure rose 13.2% on the month.
The following annual sales increases occurred in construction materials in March: cement +1.7%, asphalt +18.5%, bricks +8.6%, rebar +12.4%. The sale of floor materials and ceramic tiles rose 0.8%. Construction paint sales fell 3.4%.
Argentina's construction sector, like manufacturing, has benefited from an economy that expanded about 9% last year and appears to be on track to grow about 6% in 2011. Brazil, Argentina's main trade partner, windfall earnings from commodities and global liquidity are boosting the country's economy and the construction industry.