Uruguay/Argentine LNG floating terminal project attracts 39 industry leaders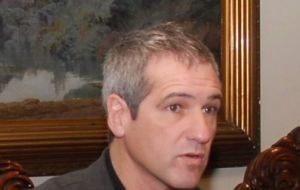 Uruguay and Argentina have received interest from 39 companies to build infrastructure for a floating LNG terminal, a project they are fast-tracking to start operations by the end of 2013, a project adviser said Tuesday.
The companies are preparing bids for a construction contract, which will be offered at an international tender later this year, said Uruguay National Energy Department Director Ramon Mendez.
"The bidders are the main companies in the field of LNG and of the 39 interested, 21 have signed confidentiality document; it's a tremendous success", he emphasized.
Uruguay and Argentina in March gave the final go-ahead for the project, which involves installing about 20 million USD in infrastructure for the terminal and another 120-150 million USD in pipelines and other works for delivering supplies. The countries will evenly split the spending and supplies.
Argentina's and Uruguay's state oil companies, Enarsa and ANCAP, respectively, as well as Uruguay's state power company UTE are working on the LNG project.
The terminal will dock 12 km off the coast of Uruguay, where the Solis Grande River empties into the Rio de la Plata. It will have an initial send-out capacity of 10 million cubic metres per day expandable to 15 million cu m/d, the adviser said.
Executives of potential bidders are visiting the country for interviews with project leaders.
The construction tender is set to be launched as soon as September.
Uruguay and Argentina are in talks with suppliers, with the aim of establishing long-term contracts in preference to buying off the spot market, the adviser said.
For Uruguay, the terminal will allow it to shed its reliance on Argentine gas, which it buys over an 8 million cu m/d pipeline. Argentina started reducing gas exports to Uruguay in 2004 because of shortages, forcing Uruguay to look for other suppliers.
Uruguay plans to use the LNG for supplying homes and factories as well as power plants, reducing its consumption of costlier diesel and fuel oil.
Power plants could consume an immediate 3 million cu m/d while factories and homes are equipped to use more supplies, the government has said.
The gas will be a complement to renewable energy from wind parks, diversifying supplies and reducing exposure to droughts that have led to shortages on low hydropower output, said Director Ramon Mendez.
"With the projected wind farms to be set up we need to have thermal plants with a very quick reply and gas turbine can be put into production in a couple of minutes", he added.
Uruguay's President Jose Mujica has said the LNG will help reduce national oil consumption to 38% of total energy supplies by 2015 from 63% in 2011.
Argentina, meanwhile, has used a floating terminal to import LNG since 2008. It will launch a second such terminal this month, and it plans to build an onshore terminal in the next few years, possibly in the southern province of Rio Negro.
Argentina, the biggest gas consumer in southern South America with 120 million cu m/d of average demand, is stepping up gas imports as its own output declines, causing shortages at times of peak demand.
Production of gas, which meets 50% of its energy needs, is down 15% from a peak of 143.1 million cu m/d in 2004 on limited exploration and maturing fields.
Argentina this year is importing the LNG equivalent of 22 million cu m/d of gas and 7.7 million cu m/d of Bolivian gas.