Cristina Fernandez presidential bid "is headed towards a predictable scenario"
Saturday, June 11th 2011 - 11:27 UTC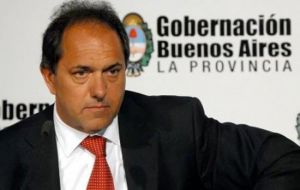 The candidacy of Argentine President Cristina Fernandez de Kirchner "is headed towards a predictable scenario" assured Buenos Aires province Governor Daniel Scioli in an interview he granted to Ambito Financiero's new TV show, "Ambito de debate".
Scioli discussed a wide array of topics, but the interview was focused on the Kirchnerite group Victory Front's strategy towards the upcoming October presidential elections.
When he was questioned about Cristina Fernández's political future, Scioli said he "remains respectful of the President's personal times" but that he believes "everything is headed towards a predictable scenario."
Scioli warned that the "Victory Front will respect the electoral deadline," which is set to June 25th as the last date in which political alliances and candidacies can be registered.
The questions referred to insistent rumours this week that President Cristina Fernandez had a meeting with her closest advisors to consider her re-election bid. Allegedly health problems (low blood pressure), demands from the family, a bout of scandals and her ongoing confrontation with organized leaders have led her to consider not running.
The president was particularly furious when organized labour chief Hugo Moyano openly stated that the "big deficit of the Kirchner model is inflation; poorly paid labour spend all their earnings in food".
Furthermore Moyano is pressing for some of his faithful to be included in the CFK "Victory Front" lists for Congress in next October elections.
"She says yes to re-election but conditions her team that the context of the next four years will be different without so many exhausting conflicts", is what the president allegedly demands.
According to the same rumours and even advanced by some political analysts if CFK finally steps down, the Plan B presidential ticket would be Governor Daniel Scioli with Alicia Kirchner, the sister of the deceased former president and currently a member of the ministerial cabinet.
But in spite of the rumours and not having made official any decision about her future, the Argentine president continued on the electoral trail, this time praising the housing development program put into action by the government since the arrival of the Kirchners in 2003.
During a speech at the Government House, the Head of State remarked that "Argentina has not experience such a number of public works for decades".
Likewise, Fernández de Kirchner underlined that her government as well as the one of his late husband, Néstor Kirchner, "have built the largest number of houses in the history of the country", and added, "So far, we have built 350,000 houses, while the housing program forecasts for a total 800,000 houses, 100.000 per year so that many Argentines can solve their housing problems."
Furthermore, the CFK revealed to be also working "so that middle class people can also get access to easy housing program".