Humala announces an "open channel of direct communication" with Chile
Thursday, June 16th 2011 - 06:14 UTC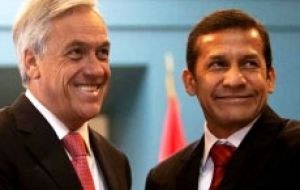 Peruvian president-elect Ollanta Humala highlighted the "open channel of direct communication" established with Chile and President Sebastian Piñera following a two hour meeting on Wednesday between the two leaders in Santiago's presidential palace.
"I feel this trip was worth it" said Humala who is on a tour of South American countries since winning the June 5 run-off. "Relations are very cordial and I thank President Sebastian Piñera (…) we've established an open channel of direct communication to be able to address any issue, any problem that can be resolved between both heads of state".
The president elect said that economy, transparency and energy were some of the several issues addressed with his Chilean peer at the La Moneda Palace. "We are willing to sell natural gas to Chile", anticipated Humala.
"All this is evidence that we can work in an integration process, a unity process which is what our peoples are demanding. President Piñera has said that our war is against inequality, exclusion, poverty, ignorance and also against prejudices" emphasized the visiting leader.
Humala also called on both countries "to look ahead" and solve "our problems as brothers". Piñera said he was confident both countries can continue "to advance and strengthen links".
"The future president of Peru is most welcome in Chile and we are most ready and willing to strengthen links between the two countries and the two brotherly peoples, and together collaborate in achieving the target which is yours but is also mine, leaving behind underdevelopment, leaving behind poverty and giving our peoples a better life, a more dignified life and with better opportunities", said Piñera.
"I have been received with the best of willingness since I stepped on Chilean territory…and I leave happy and most satisfied", concluded Humala who has already visited Brazil, Uruguay and Argentina.
On arrival to Chile Tuesday night the Peruvian president-elect said he came with an "open agenda" and "looking towards the future"
"We have an open agenda as it should be. I am the president-elect, so the important thing now is to get to know each other and, thus, start relations between both countries as best as we can," Humala said.
Peru and Chile are neighbours and share strong dependence on natural resources, but lingering consequences of the 1879 Pacific war has left scars and deep suspicions. During Humala's campaign some flag waving statements triggered strong reactions in Chile.