CFK describes PM Cameron's Falklands' statement as "mediocre and almost stupid"
Friday, June 17th 2011 - 06:37 UTC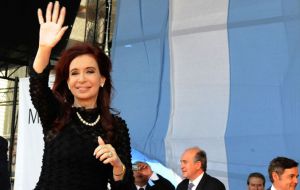 Argentine President Cristina Fernández de Kirchner, CFK, described UK Prime Minister David Cameron's emphatic refusal to discuss Falklands/Malvinas Islands' sovereignty as "mediocre and almost stupid" and promised to continue indefatigably with the claim in all world forums.
Cristina Fernandez travelled Thursday to the north east province of Misiones to inaugurate a shoe factory ahead of next week's local elections, and took some time to add another chapter to the Argentine sovereignty claim over Malvinas, South Georgia, and South Sandwich islands and to bash the UK.
"We Argentines never believed in 'period', not for human rights or for sovereignty over our Islands", said the Argentine president, adding that "the (Argentine) Foreign Affairs ministry described (Cameron's remarks) as a regrettable act of arrogance, I define them as mediocre and almost stupid".
"Only arrogance and mediocrity can put an end to history; you can be certain I will continue tirelessly claiming the sovereignty over our Islands until they (UK) sits at the dialogue table to negotiate as marked by the UN resolution".
Likewise, the Argentine President considered that the kind of attitude shown by Prime Minister Cameron "reveals that the UK is a coarse colonial power", and added, "Colonialism is an antiquity".
Last Wednesday during a question period at Parliament the British PM stated that Falklands' sovereignty "is not negotiable. Period!". He added "as far as the Falklands maintain their interest in remaining as British sovereign territory, they should remain that way, and there is nothing more to say about it".
Rapidly after, the Argentine Foreign Ministry, issued a communiqué saying that the Government "deplored Cameron's statement", and continued, "In a regrettable act of arrogance, the United Kingdom claimed to have the authority to 'put an end' to the unresolved conflict regarding the Malvinas Islands sovereignty, a case that is currently being recognized by the United Nations."
Also on Wednesday, the Argentine president stated that "it's ridiculous to hold sovereignty of something that's 14,000 kilometres away".
"The UK pretends to have the authority to put an end to a history chapter referred to a sovereignty dispute acknowledged by the UN and still pending a solution" underlined Mrs Kirchner.