Japan interested in closer links with Mercosur attends summit in Paraguay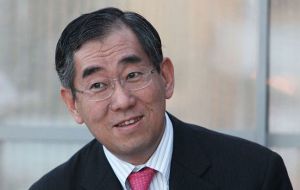 Japan is attending the Mercosur summit in Paraguay with an eye on proposing the launch of a dialogue to boost bilateral economic relations and explore the possibility of signing a free trade agreement, reports the Japanese news agency Kyodo.
Foreign Minister Takeaki Matsumoto is currently on a five-day trip to Paraguay and Brazil and will be the first Japanese foreign minister to join the summit of the four-nation bloc on Wednesday in the Paraguayan capital Asuncion and "will call for strengthening bilateral economic ties by further promoting trade, investment and personnel exchanges", according to Japanese officials quoted by Kyodo.
"As the size of the Mercosur economy is bigger than that of ASEAN, I'd like to convey Japan's willingness to strengthen relations with the Mercosur customs union," Matsumoto said at a press conference in Tokyo. ASEAN stands for the Association of Southeast Asian Nations.
The minister will seek the establishment of an economic dialogue involving officials of various ministries between Japan and Mercosur members - Brazil, Argentina, Paraguay and Uruguay - to study the possibility of an FTA, which has been requested by business communities of Japan and Mercosur countries.
Mercosur, which is expected to soon add Venezuela as a new member, has an FTA with Israel, Egypt and has been negotiating free trade arrangements with the European Union, Jordan, Turkey, the six- nation Gulf Cooperation Council and South Africa.
The regional body, which has also completed a joint FTA study with South Korea, has a policy of signing a trade pact as a group. New Zealand has also pressed for an FTA with the entity of fast- growing emerging economies with abundant natural resources and a population of about 300 million.
Japan is interested in gaining freer access to the manufacturing sector in Brazil, such as auto parts, but Japanese farmers are reluctant to conclude an FTA with major agricultural exporters Argentina and Uruguay, according to the Japanese officials.
After attending the summit, Matsumoto is scheduled to hold talks with his Brazilian counterpart Antonio Patriota on Thursday in Brazil before returning to Tokyo on Saturday.