Qatargas will provide Argentina with LNG on a 20 year supply agreement
Friday, July 1st 2011 - 06:59 UTC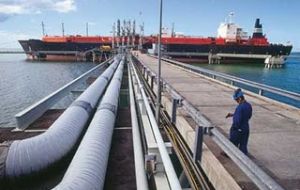 Qatar's leading corporation Qatargas has signed an agreement with Argentina's government owned oil and gas company, ENARSA for the long-term supply of liquefied natural gas (LNG).
Starting in 2014, Qatargas will deliver five million tons per annum (mta) of LNG to ENARSA's Southern Cone LNG Hub in Argentina. A 20-year contract, the LNG supply is expected to meet 16% of Argentina's natural gas demand.
The Southern Cone LNG Hub is an offshore LNG Floating, Storage and Re-gasification Unit (FSRU) that is scheduled for completion in 2014.
The HOA follows a framework agreement signed in January 2011 by Argentine President Cristina Fernandez de Kirchner during her state visit to Qatar, concerning long-term supply of LNG to Argentina.
Qatargas is the first-ever long-term LNG supplier to the South American country.
"Argentina is one of the world's fastest growing LNG markets, which needs long-term supplies to meet its increasing demand for natural gas; and we here in Qatar are very proud to partner with Argentina and to be able to support their energy needs, for many years to come," said Minister of Energy and Industry for Qatar and Chairman of Qatargas Dr. Mohammed Bin Saleh Al Sada.
"This is Qatargas' first long-term LNG agreement into the South American market. Of course I am very pleased with the achievement that has been made and we look forward to a strong and long term relationship with ENARSA. This milestone further demonstrates Qatargas' commitment as a reliable LNG supplier to the world" added Qatar's Minister of Industry and Energy.
The president of ENARSA Exequiel Espinosa also praised the framework Agreement signed between the governments of Argentina and Qatar. The Agreement was signed by the Minister of Planning and Public Works, Julio De Vido, during the visit of the Argentine President Cristina Kirchner to Qatar.
Mr. Espinosa says: "Today is a very special day; the Head of Agreement signed between Qatargas and ENARSA boosts and complements the interests of both companies. In the case of Argentina, this agreement represents a supply of 5 million tons of LNG per year. In the case of Qatar, it represents the possibility for that country to operate in the largest natural gas market of Latin America", said Enarsa president Espinosa.
Qatargas established in 1984, pioneered the liquefied natural gas (LNG) industry in Qatar. Today, Qatargas is the largest LNG producer in the world, with an annual LNG production capacity of 42 million tonnes per annum (mta) with world-class facilities in Qatar to deliver customers all over the world.