Bolivia apologizes to Argentine Jewish community for inviting Iranian official
Saturday, July 2nd 2011 - 05:38 UTC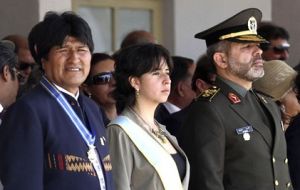 Bolivian president Evo Morales apologized to the Argentine Jewish community for having received on an official visit the Iranian Defence minister Ahmad Vahido, who is wanted by the Argentine justice system for his alleged involvement in the 1994 anti-Semite attack in Buenos Aires.
"The truth is, it's not common to hear a President speak with humility and sensibility to recognize an error" said Aldo Donzis, head of Argentina-Israeli Associations Delegation, DAIA, after meeting with President Morales.
Speaking with the Argentine press Donzis said he was taken by the "nobility" of President Morales for having recognized his actions.
"We've had the chance to tell Evo Morales how badly we felt after they had officially received him, more so because Vahidi is a fugitive of the Argentine Justice system," Donzis said after the meeting.
Iranian minister Vahidi made a visit to Bolivia last month, where he participated in a military ceremony with Morales, which generated an air of negativity from the Argentine government and Jewish communities in both countries.
The Bolivian government apologized claiming that they had not known that the Iranian Minister was wanted by the Argentine Judiciary for being involved in the bombing and flattening of the Argentine Israeli Mutual Society (AMIA) which caused 85 deaths and dozens of maimed and injured in 1994.