Hydrocarbons-rich province says Argentina has no need to import natural gas
Monday, July 18th 2011 - 10:28 UTC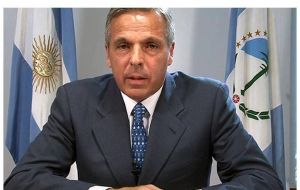 The governor of hydrocarbon-rich Neuquen Province wants to convince Argentina's government it can get all the natural gas it needs from Neuquen and doesn't need to spend billions to import the fuel from Qatar.
Neuquen could produce enough unconventional gas within two or three years to obviate the need for Qatar imports that could cost up to 5 billion dollars, said Governor Jorge Sapag.
"I estimate that with an investment of 2 billion we could substitute that Qatar importation. What we have to do is to drill here", said during a meeting with the press.
Sapag's comments come about two weeks after Argentina's state-run energy company, Enarsa, signed a non-binding agreement with Qatargas to provide the country with 5 million tons of liquefied natural gas a year.
According to Sapag the 20-year import deal, slated to begin in 2014, is "entirely unnecessary".
Once a net gas exporter, Argentina has been unable to meet its domestic gas needs since 2004, when booming demand surpassed declining output. Since then, Argentina has imported gas from neighboring Bolivia and, increasingly, from Trinidad & Tobago.
Sapag said Argentina will still need to import gas from Bolivia for "strategic" geopolitical reasons.
During periods of peak demand, such as the winter months from June through September, the government rations gas to industrial companies to ensure distribution to residential homes.
Since 2008, Neuquen has led the push for unconventional gas and oil production, which involves freeing the hydrocarbons from shale rock by fracturing the stone and bringing them to the surface.
The federal government's 2008 "Gas Plus" rules allow companies to charge more for unconventional gas, which is more expensive to extract. Unconventional gas now sells for 5 to 7 US dollars per million British Thermal units.
Before this, almost all oil and gas prices had been frozen at below-market levels, giving companies little incentive to invest in exploration.
Even today in Neuquen, residential gas sells for less than 1 dollar per MMBtu, far below the 7 dollars paid for gas from Bolivia or the 14 dollars for LNG from Trinidad & Tobago, Sapag said.