Brazil to cut ethanol content in gasoline to ease pressure on sugar market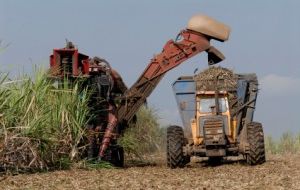 Brazil will reduce the ethanol content in gasoline in another effort to contain inflation since sugar (and ethanol) prices because of a poor crop have been soaring, according to the Sao Paulo press.
Currently the ethanol content is 25% but President Dilma Rousseff is expected to announce a reduction to possibly 18% or 20%, sometime the next month.
"The effect of ethanol prices has been very negative for inflation and inflation expectations", a government source was quoted. The decision had been long expected since it could help to tame inflationary pressures.
Fuels have a 2.5% participation in Brazil's Expanded National Consumer Prices index, IPCA.
Governments usually make these modifications regarding fuel blends in the period between two crops, when supposedly prices are at their highest. However in this case the decision will be done in the midst of the harvest, which could bring further uncertainty to the market according to the Sao Paulo sources.
Less consumption of ethanol could free more sugar for consumption thus helping with the price of the sweetener. Currently half the country's sugar production is transformed into ethanol.
Another consequence could be that the government's oil company Petrobras could need to import more gasoline to compensate the ethanol loss. But oil prices, although high have gone done compared to a few months ago.
Inflation in Brazil picked up to 6.71% in the last twelve months to June which is above the government's target of 4.5%, plus/minus two percentage points.
The Brazilian central bank has also raised its reference rate Selic by 150 points so far this year to 12.25% with the purpose of helping combat inflation. Another 25 points is anticipated this week by money market analysts.