Peruvian president-elect names orthodox pro-business in key cabinet posts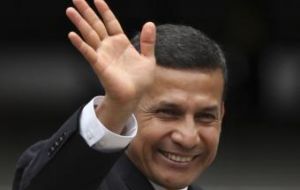 Peruvian President-elect Ollanta Humala picked more moderates for his Cabinet on Thursday as he tries to reassure investors he will govern as a centrist in one of the world's fastest-growing economies.
The appointments burnish the pragmatic image Humala sought to project during the campaign, in which he convinced many voters he had shed his radical past and strident opposition to foreign investment, private capital and free trade.
"We are building a government of national unity," Humala said. The former army officer, who takes office July 28, has vowed to do more to quell vexing social conflicts over natural resources that pit big mining and oil firms against poor rural towns left behind by a decade-long economic boom.
Humala, whose core base of support is in remote provinces, says a weak state, which only takes in tax revenues of about 15% of GDP, must become more muscular and focus more funding on social programs to lift up the one-third of Peruvians mired in poverty.
He says that would help avert social conflicts that often turn violent and marred departing President Alan Garcia's tenure. In an interview on local television aired on Thursday, Huamala said he had named as foreign minister Rafael Roncagliolo, an academic and journalist who has worked on governance and media issues in international forums.
He chose Carlos Herrera, an engineer, to serve a second stint as Peru's mines and energy minister. Those picks come followed an announcement late on Wednesday that Salomon Lerner, a wealthy businessman of Jewish origin who ran his campaign, would lead the Cabinet as prime minister and orthodox economist Luis Miguel Castilla would be finance minister.
Castilla was deputy finance minister in President Alan Garcia's government and is associated with the country's free-market economic model.
Castilla rounds out Humala's economic team after he said on Sunday he would reappoint conservative central bank chief Julio Velarde, who is praised by Wall Street, to another five-year term.
Peru is one of the world's top minerals exporters. Foreign companies have pledged 50 billion dollars in mining and oil investments for the next decade in Peru, but investors are increasingly worried about social conflicts over pollution, water and local revenues from natural resource projects.
While Humala's picks could please investors, he risks alienating his core supporters and he has yet to say how he will persuade the conservatives he picked to head economic policy to increase spending on social programs.