Colombia forces change strategy and will attack terrorists with small scale units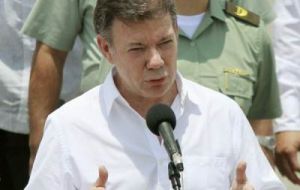 Colombian President Juan Manuel Santos vowed to develop better strategies in the war on the Marxist oriented drugs funded guerrillas who still manage regular small attacks despite being at their weakest in decades.
The conservative leader and US ally marked his first year in office on the weekend with high popularity levels (85%) and economic advances that have won Colombia investment grade status from the three leading rating agencies.
Those accomplishments have been tarnished, however, by a recent increase in violence by the Revolutionary Armed Forces of Colombia (FARC), such as an attack last week that killed an oil worker and injured six people.
"I've asked the Defence ministry to revise the way the (army) controls territory, including our borders, so our forces are more efficient and effective," Santos said in a speech.
Santos predecessor, and under whom he served as Defence minister, ex president Alvaro Uribe was astutely efficient in its crackdown on the FARC which led to rebel desertions, high-profile arrests and the killing of top commanders.
The overall decline in violence has attracted billions of dollars in foreign investment to Colombia's mining and oil sectors over the last five years, which has allowed the country to boost crude and coal output to historic highs.
Yet the rebels remain strong in some remote areas of the nation of 46 million people, aided in part by involvement in the cocaine trade and alliances with other armed groups.
Santos vowed to improve intelligence and said troops should break into smaller units for greater versatility in fighting the FARC. "As the government we've got to be humble and fix whatever needs fixing, and that's precisely what we're doing."
Given greater pressure from the army, the rebels are more likely to pose as civilians, and tend to carry out small-scale attacks with big media impact but lower risk, Santos said. "We've got to adapt our doctrine, our operations ... to the way in which they're operating."
Latin America's longest-running rebel insurgency, the FARC was established in 1964 as a communist-inspired peasant army fighting to reduce a poverty-wealth gap that remains huge in resource-rich Colombia. Listed as a terrorist organization by US and European officials, the FARC largely funds itself by trafficking drugs and kidnapping civilians and officials.