Argentine economy steams ahead at an annual rate of 8.2% in June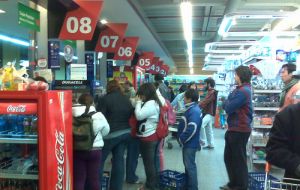 Argentina's economy grew by a wide margin in June on the back of a consumer spending spree and solid demand for the country's grains and manufactured goods overseas, according to the national statistics office, Indec.
The monthly economic activity index, EMAC, grew by 8.2% in June over the same month a year ago. Compared to May, it rose 0.4%, and accumulated an 8.8% increase in the first semester of 2011
The administration of President Cristina Fernandez de Kirchner has forecast economic growth for the full year of 8.2%, down from 9.2% in 2010.
Both manufacturing and consumer spending surged in June. Automobile production rose 24% on the year, to 80,795 vehicles, while raw-steel output increased 11.7%, to 470,000 metric tons. Meanwhile, shopping-center sales (in pesos) jumped 32.4% that month.
South America's second largest economy has been growing sustainedly for the last eight years and there are clear signs of overheating due to loose monetary policy and a government-spending spree on social programs and public works.
This is particularly evident since Argentina is holding presidential and legislative elections next October.
Economic advisors say that inflation in Argentina is running at an annual rate well over 20%, although Indec put inflation as measured by its consumer price index at an annual rate of 9.7% last month.
Together with Venezuela Argentina has the highest inflation.
The release of non official data on prices by private consultants (disputing Indec) is exposed to heavy fines.
This has led members of the opposition to create the so-called "Congressional inflation index" (an average of the most respected private consultants), which is announced monthly. The July index was 1.62%, accumulating over 23% in the last 12 months.